Any artistic endeavour, any work of literature, music, theatre or film starts in the same place. With empty space. A clean white sheet of paper or a blank screen on which the enviably creative people of this world are able write a word, place a mark, drag a single line of ink in an intriguing arc and from that conjure up rich and wonderful worlds full of adventure, intrigue, beauty, horror… and it's the same process that lies behind the creation of our favourite games.
Given that EVE: Valkyrie's parent title, EVE Online, is coming up to its 14th anniversary it's no wonder that this complex and epic online MMORPG has grown out of, and inspired, a vast array of amazing sci-fi art, whether it's concept work, comicbooks or fan art.
EVE: Valkyrie, drawing on the exotic lore of the EVE Universe, is adding to the gallery of gob-smacking imagery that forms the basis of everything we see and encounter in New Eden.
The ever-evolving nature of EVE: Valkyrie means a constant search for inspiration and new talent so now is, we think, the perfect time to introduce our latest Concept Artist to join the team. Luc Fontenoy is a talented young buck whose work, as you will see, seems tailor-made for EVE: Valkyrie. He kindly took some time out from his daubings to tell us about what it takes to become an artist in the games industry and what he's working on now that he's a resident of New Eden.
Hi Luc, welcome to the team. First of all, an artist... what an awesome way to make a living. When did you first realise you liked to draw stuff? Has it always been a passion?
I feel incredibly lucky to be doing art for a living! It's definitely a bit of a dream come true. I think I've always been interested in drawing from a super-young age. Both my parents are artists so I probably absorbed some of that over the years, but I don't think I really started taking it seriously until I was a teenager.
What sort of stuff inspired you when you were younger and beginning to hone your craft? What styles were you into?
I remember the first Spider-Man movie coming out when I was maybe nine or ten years old and I got really obsessed with Marvel comics after that. I think comics were a really big influence for my interest in art. For the longest time, maybe even up until I was about 17 or 18, I wanted to be a comic book illustrator. Comics and graphic novels were pretty much all I knew. I had a bunch of those (probably quite lame) how-to-draw comics and manga books that I tried to learn from. Discovering artists like Yoji Shinkawa and Frank Miller in my teens influenced my tastes a lot. I really love that style of expression in art.
How did you get from enthusiastic scribbler to fully qualified artist?
Game art, in general, was an alien concept to me. I mean, I knew people made games but I figured it was all technical programming and maths. I was only really introduced to it when I was studying a foundation art and design course after finishing my A levels. One of my tutors showed me a bunch of Feng Zhu Gnomon Workshop tutorials, which I'm sure was a first step for many concept artists! Couldn't believe people got paid to draw and paint these insane landscapes and worlds for a living. After that I decided to study Game Art at De Montfort University in Leicester. I learned a lot there about the fundamentals of art and how to draw, though the course back then was more focused on the 3D side of things so I spent a lot of my spare time drawing and painting, and learning a lot from really great mentors. I got my first job straight out of university in a small games studio maybe three years ago? And here I am! Still pretty fresh-faced, bright-eyed and bushy tailed…
What brought you to CCP and were you already familiar with their work?
CCP have always been on my radar as one of the best creators of sci-fi, gaming or otherwise. I got the chance for an interview here and really, there was no way I could turn it down. Being that the current project is VR based as well was just super-exciting and something I've wanted to get my teeth into for a while.
Talk us through your process from blank piece of paper to finished concept. And what are the tools, physical and digital, you use?
So, my process varies from piece to piece based on what I'm drawing, whether it's a large environment mood piece or a more technical vehicle concept. If it's a brief for something entirely new then I'll usually start out with some quick black and white sketches, in Photoshop, just to get some ideas out and get the juices flowing. If it's going to be a more complicated concept, then I'll take a couple of the best sketches and start working them up into a 3D model or scene in 3DS Max. From here I can light and apply rough textures to my model/scene and render out some images which I'll then take back into photoshop and continue to work up into the final concept. This process is pretty industry-standard. It's a very versatile pipeline because you get results quickly, you can go back and change things like lighting or camera angles for a new perspective and very importantly, the 3D block-outs can be used by other members of the team to build upon.
What are you working on right now (if you're allowed to talk about it)?
I'm currently working on concepts for new content that will go live in a few months' time. I can't say much about it right now, but safe to say it's not just a new map! It will affect gameplay directly…
Ooh, intriguing. But we'll leave that hanging there lest we say too much and the Gods of Gossip strike us all down for saying too much too soon. Thank you, Luc. We look forward to seeing the fruits of your labours in the months to come.
To see some of Luc's pre-CCP artwork (like the examples below) head over to his artstation page.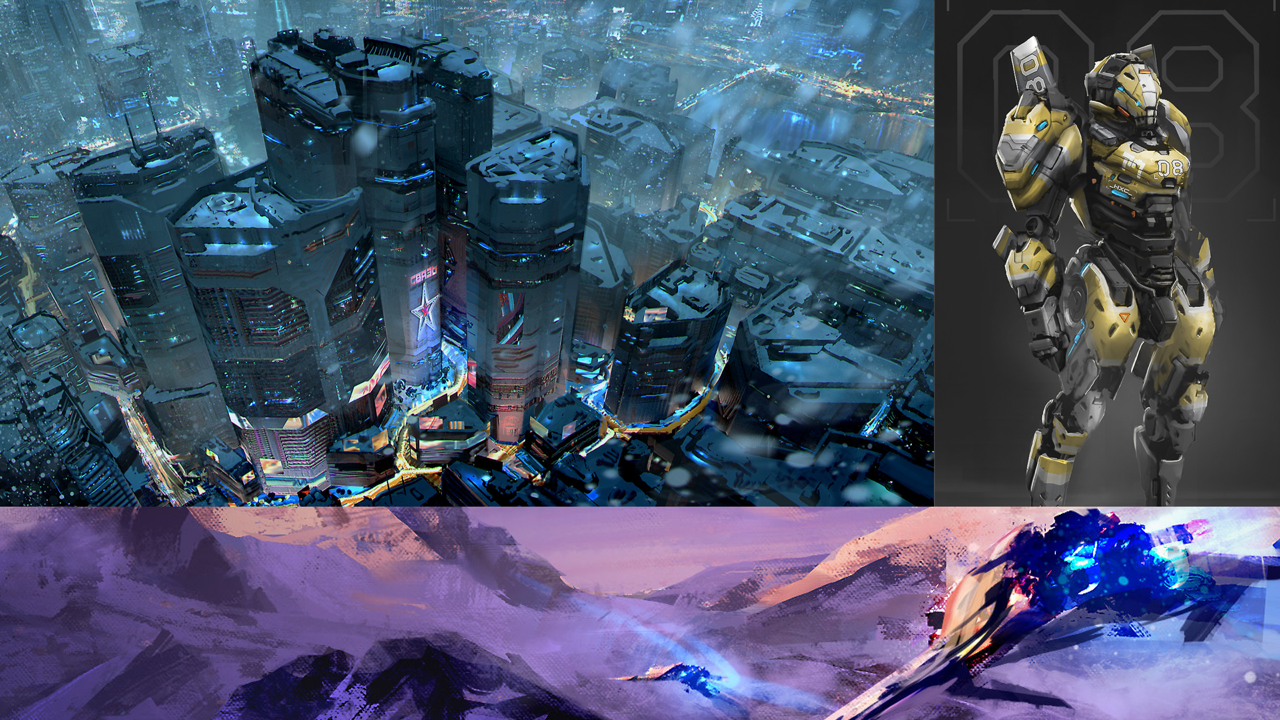 In the meantime, if you want to enjoy more amazing artwork from the EVE Universe and start building your library of literature on the subject, check out our recently published article.
Fly safe and keep sketching!