Last week we celebrated a year of EVE: Valkyrie's Carrier Assault mode with an entire day of bringing down supercarriers in spectacular fashion and as expected, it was a blast. A big thank you to all those who got involved. Before we move onto our next New Eden adventure we wanted to take a quick look at what went down over the course of last week.
Marathon Man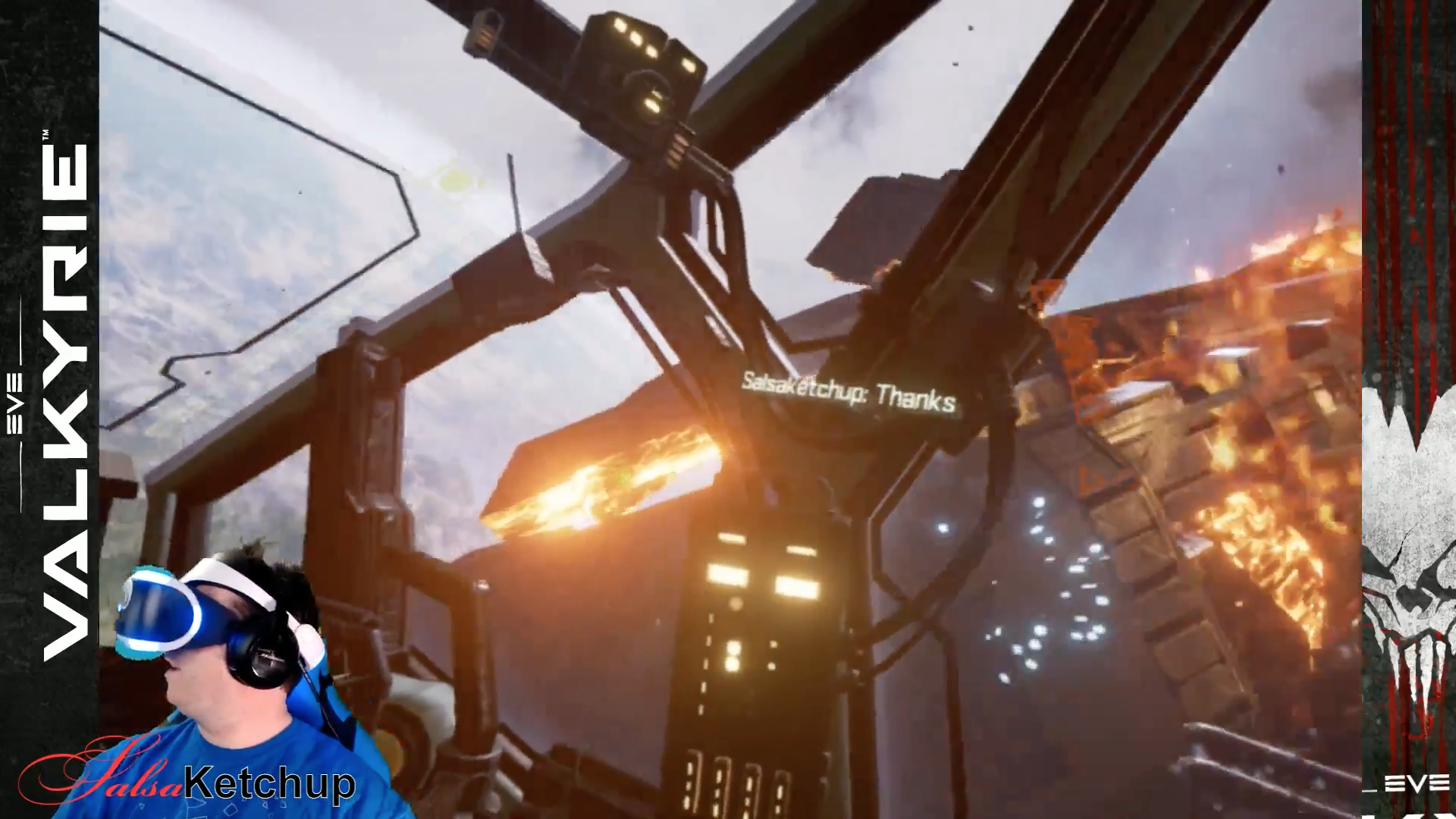 As usual, our old friend and avid streamer SalsaKetchup threw himself wholeheartedly into Carrier Assault Day, delivering a whopping 80 minutes of video footage devoted to bringing down the big boats. You can enjoy all the action in the YouTube vid right here.
Music to Our Ears
In case you missed it, we marked the day by releasing an exclusive piece of music to Soundcloud. It was composed by Rich McCoull of post-production studio The East Wing and was derived from EVE: Valkyrie's Carrier Assault mode. It's called Tempest. Check it out. It rocks.
#EVEValkyrie's Carrier Assault Soundtrack - 'Tempest' is now available on @SoundCloud #VR #ValkyrieCAday https://t.co/z2cbgd9M6O

— EVE: Valkyrie (@EVEValkyrie) 20 June 2017
First Blood
CCP's very own Nej (aka CCP Bosun) wasted no time in exploiting his bragging rights by posting the team's very first Carrier Assault takedown. Good work fella!
BOOM! First Carrier Core kill of @EVEValkyrie Carrier Assault day for my team! Great games guys! 😎🤓😎#EVEValkyrie #ValkyrieCAday pic.twitter.com/ENSkwIwcv4

— John Nejady (@ItsNej) 20 June 2017
The Early Bird
Ace pilot VegaNavarre, never one to hold back, shared his Carrier Assault experience even before the event had begun. Thanks, Vega. We appreciate the enthusiasm.
#ValkyrieCADay potato quality, but was a great moment nontheless https://t.co/KUCHqZFkd8

— VegaNavarre (@Vega0805) 17 June 2017
Feeling the Love
Many of you wasted no time in letting us know just how much you love Carrier Assault, heading over to the forums and sharing some memories. It seems you all had a great day.
"Awesome! I can still remember my first carrier kill! Was that a year ago? Aaaaahhhhhhhhhh...Sure??? Anyways thanks! Am looking forward to the songs! o7 to y'all! In my first game I just shot at the core repeatedly even when it was still shielded." Baron

"Woot happy carrier assault day! Such a fun mode, you never know if it going be a quick match or the whole 20mins." Anska

"New to Valkeryie myself but this community is the epitome of the word. Always impressed. Carrier anniversary sounds great and I'm in. I had to express something about the job you guys and girls are doin, and if only I could fly safe, ha, gotta paint that on the side of a ship, thanks" DinosaurDan

"Had some good matches last night. Still can't believe how quickly an organised squad can swarm the relay stations and capture them. Got my ship in for repairs right now as my paintwork got scratched." Spookies118

"Such a memorable day when CA released. That was the day my k/d ratio took a hit. So much sacrifice for just one more cooling node destroyed or one last point on the core. Good times always. I'm looking forward to the celebration. Orion
A Picture Paints… etc

Our man CCP Algorithm kicked off proceedings with the enigmatic Rebus puzzle above. Hmm… now what phrase could that possibly represent? Tricky!
Well, we had a hoot, and it seems you did too. Must do it again sometime. Before we sign off, don't forget we also ran play guides to Carrier Assault mode for all three ship classes by ace pilots General Stargazer, Nydwen and Anska. So, if you want to up your game, head over to our guides for fighters, heavies and supports.
Thanks again for making it a memorable event.
Fly safe!