It's no secret that the EVE: Valkyrie community are incredibly creative. Over the last year and a half, we have seen a wide variety of inspired works of art. From fully edible Valkyrie teacakes to timeless tattoos; there is no end to the vast imagination of our fearless Pilots.
Valkyrie itself has also been a hive of activity, from Carrier Assault marathons to XP Weekends and more, there's always something new happening in EVE: Valkyrie and this weekend's Wormhole event provided the perfect opportunity for our Pilots to create something truly unique.
Would you like to know more? Read on….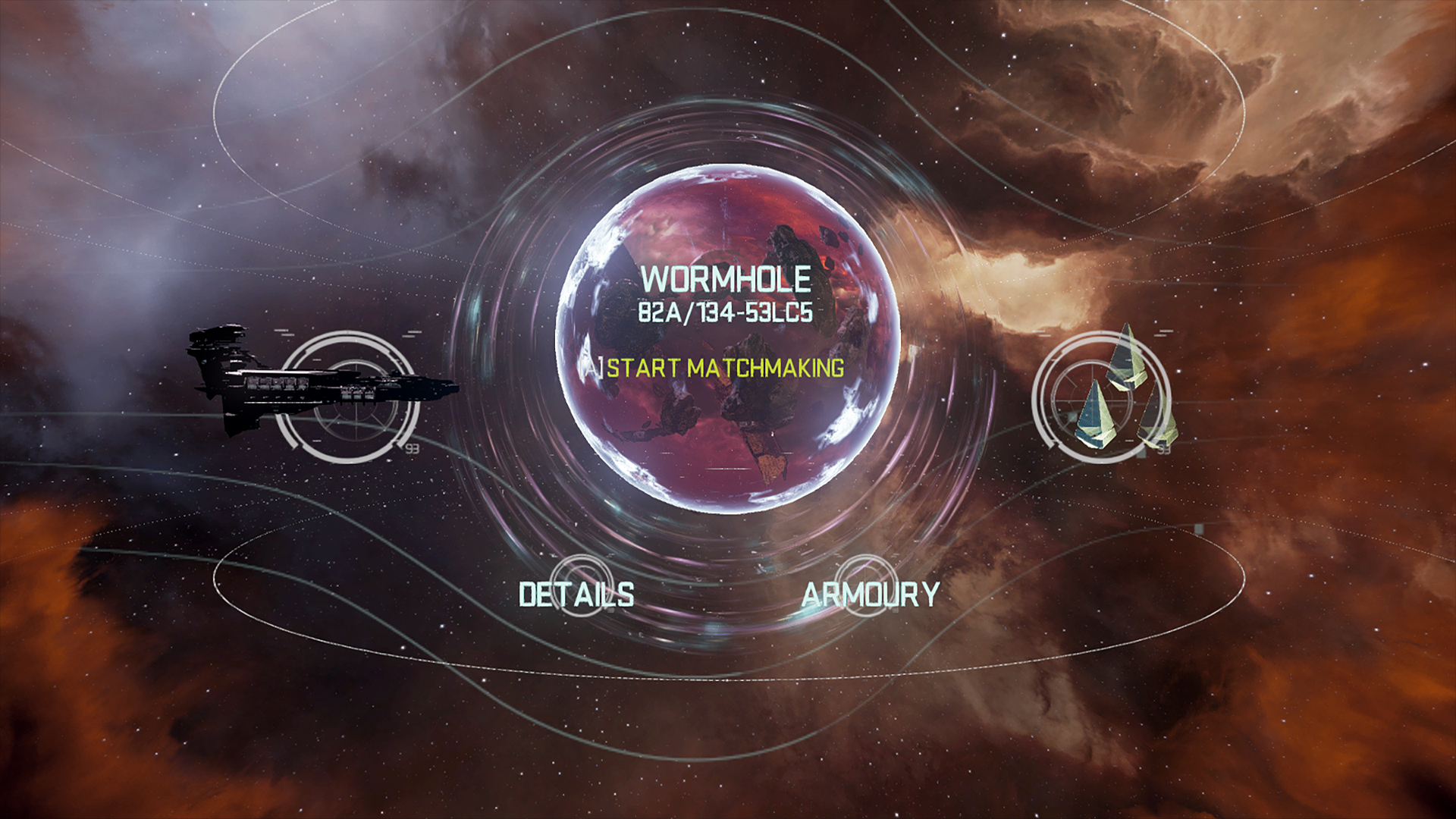 If you're new to Wormholes, here's a summary - A Wormhole remains open for a few days and provides Pilots with a new set of rules to master - modified game modes, unusual environments, special upgrades, new visuals and more. The community has even worked with the Valkyrie Development team on ideas for pitching new Wormholes and have voted to bring back a classic. Find out more about Wormholes here.
Last weekend was quite a sight. The incredibly popular Nightyard map made an appearance and with it saw the return of Rainbow Trails and Superboost effects. While Wormholes are normally highly deadly affairs, for an hour several talented Pilots from the Valkyrie community downed their weapons and flew together in formation.
In the process they created the most spectacular rainbow trail effects, made brighter by the Nightyard map's dark and mysterious surroundings. Luckily, the kalidascopic results were caught on camera. We think you'll agree the result is astoundingly beautiful!
Formation flying (and filming this formation flying) is no easy task, so we talk to the mastermind behind it all, Community Contributor and video master Salsaketchup to find out what it takes to make magic in the Wormhole:
---
How long have you been playing Valkyrie?
From the release of the PSVR on the 13th October 2016; I streamed my first play session live on twitch from which I met Pillerfiller, who was my guide to my first steps in multi-player (also streamed on twitch) and where I was first introduced to Nydwen's deadly aim in a heavy.
What drew you to the Valkyrie community?
The Valkyrie community just sort of pulled me in from the first moment I started streaming, as anyone who gets involved with this community can tell you the people are engaging and can be very enthusiastic.
How long have you been streaming?
I started streaming on and off directly from my PS4 about 2 years ago, but only started streaming more regularly in the last year and a half after I built a new PC for streaming and video editing.
What sort of Valkyrie streams do you do and when?
Most notable would be my streams of the wormholes on Fridays with other streamers and players from the Valkyrie community. I also try to stream whenever there is an update to Eve Valkyrie or there is an event as anything that has a more social side is always more fun and I'm a firm believer in the more the merrier. Outside of that, I'm a bit sporadic and unpredictable.
How did you get the idea for the formation flying?
Thoughts of flying in formations first popped into my head within the first couple of weeks of playing Valkyrie. There were times that I would be flying real close to squad mates such as Mittko and other PSVR pilots and I would just think how cool would it be to charge in as a whole squad. To look out of your cockpit and see your team up-close before all hell breaks loose.
Can you go into the logistics? How long did it take to organise and film?
As a thing, it has all happened quite fast, basically in the last few weeks from the 31A/643-5OLH5 wormhole (The Ride of the Valkyries one).
After messing around and making the first time-lapse video I had the thought that it would be awesome if I could get some footage from outside my ship, which prompted me to ask Anska if she would give me a hand and try flying alongside me while I filmed from out on the wing of an Assuage.
After filming that we ended up talking about it on comms with Jpx86, Dagreff and Red5nev. This lead to me acting as a chase cam filming some general gameplay and some close flying groups and small formations (inside my ship this time), most of which ended up going into The Ride of the Valkyries video.
The next week (Week 18) on the live on stream I started filming for the weekly video, this time out of my ship again with Whirlymaster, Red5nev, Dagreff and Anska. This was a bit of a departure from the norm for me as I normally get all my source footage off stream due to setup/quality concerns. That week really showed me that if there wasn't a single point objective that I would need to have almost all pilots in the match on comms or ideally both squads filled with people willing to play ball and all on coms.
So how did the idea for this video come about?
I started thinking about what type of formations and manoeuvres could look good with 15 pilots and had started drawing the ideas with the thought that I would ask for anyone who is interested if they would like to practise a few things to make a video later, and then the wormhole was Nightyard. . .
As soon as I heard it was a Nightyard wormhole I wrote the post on the forum and took to Twitter and discord, I mean what else could make formation flying look better than rainbow trails out the back of the ships!? The rest all happened on the fly as we ended up with 13 pilots on comms and the results looked great and the EVE: Valkyrie Soundtrack – Tempest adds the extra punch needed to tie it all together nicely. I still believe with a bit more organisation that it would be possible to push the boundary back even more and making something that is truly epic.
Any tips/ video tutorials for other budding EVE: Valkyrie enthusiasts?
There is no right way to make videos as there are just so many approaches that can be taken, but between this and this you can see the whole process from capture to editing and voiceover that I used to make Week 18.
Two bits of advice I would give to anyone that is thinking of making any content is if you're not looking at doing it to have fun your starting on the wrong foot! The other is see what you can do with the equipment you have at hand that doesn't cost any money first. If you find yourself doing more and more and are happy where you are then carry on doing what you do, before looking at anything that would cost money as you could end up spending a lot on equipment.
Where can we follow you on social media?
Twitter@SalsaKstream is where you can find my social announcements and I have channels on YouTube and Twitch.
---
So there you have it, a truly unique event in EVE: Valkyrie brought to you by the Pilots themselves… who knows what the next wormhole will bring?
Fly safe pilots!