If you want to find out the latest EVE: Valkyrie-related news, the best place to start is right here. However, you can also get alerted to everything that's happening in New Eden and share your experiences with thousands of other players via social media channels. There's a whole world of chatter going on out there, so here's where you can join in.
Facebook
Our official Facebook page is crammed with cool stuff. We keep it regularly updated with posts informing you about the latest news, events and play guides that are appearing on the website. Scroll down through the various posts and you'll also discover an ongoing and lively exchange of views between the players and the CCP team, with many of our pilots contributing ideas for things they'd like to see in the game. Get over to FB and get involved.
Twitter - #EVEValkyrie
#EVEValkyrie ProTips – Master the maps in your fighter – Part 2 https://t.co/Sc8N1IULWq #VR pic.twitter.com/DwqDPumQy0

— EVE: Valkyrie (@EVEValkyrie) 21 March 2017
Every day we tweet the latest exciting happenings in the world of Valkyrie, so even if you're away from your browser, we'll ping you with the skinny on any developments, finely crafted in 140 characters. Don't get left out!
In addition, Twitter is a great place to find out what the Valkyrie community is doing. With PSVR players able to instantly show off their achievements with #PS4Share, there's always something new to discover.
Instagram
Always keen to show off their new VR kit and highest achievements in EVE: Valkyrie, our pilots are constantly posting picture to Instagram under the hashtag #evevalkyrie. There are literally hundreds of images of hardware, victory screens, gaming set-ups and people either in the act of playing the game or attending an official event and discovering the game out in the wild. Plus, our own official Instagram account is the source of some amazing artwork which we'll be adding to on a regular basis.
YouTube
Gotta love YouTube. Our official YT channel is your one stop shop for getting Valkyrie vidz beamed directly into your eyeholes. Assembled here are trailers, demos, pilot training guides, keynote speeches, presentations and behind the scenes footage. So, even when you're not in the cockpit, you can still immerse yourself in an abundance of fine Valkyrie footage.
Let's also not forget our massively enthusiastic community of pilots who are constantly creating their own YouTube videos. Just search for Valkyrie stuff and you'll find a veritable tsunami of player-generated content. Just be aware that as non-official material, this stuff can sometimes come with a generous helping of fruity language. Naughty Valkyries!
Twitch.tv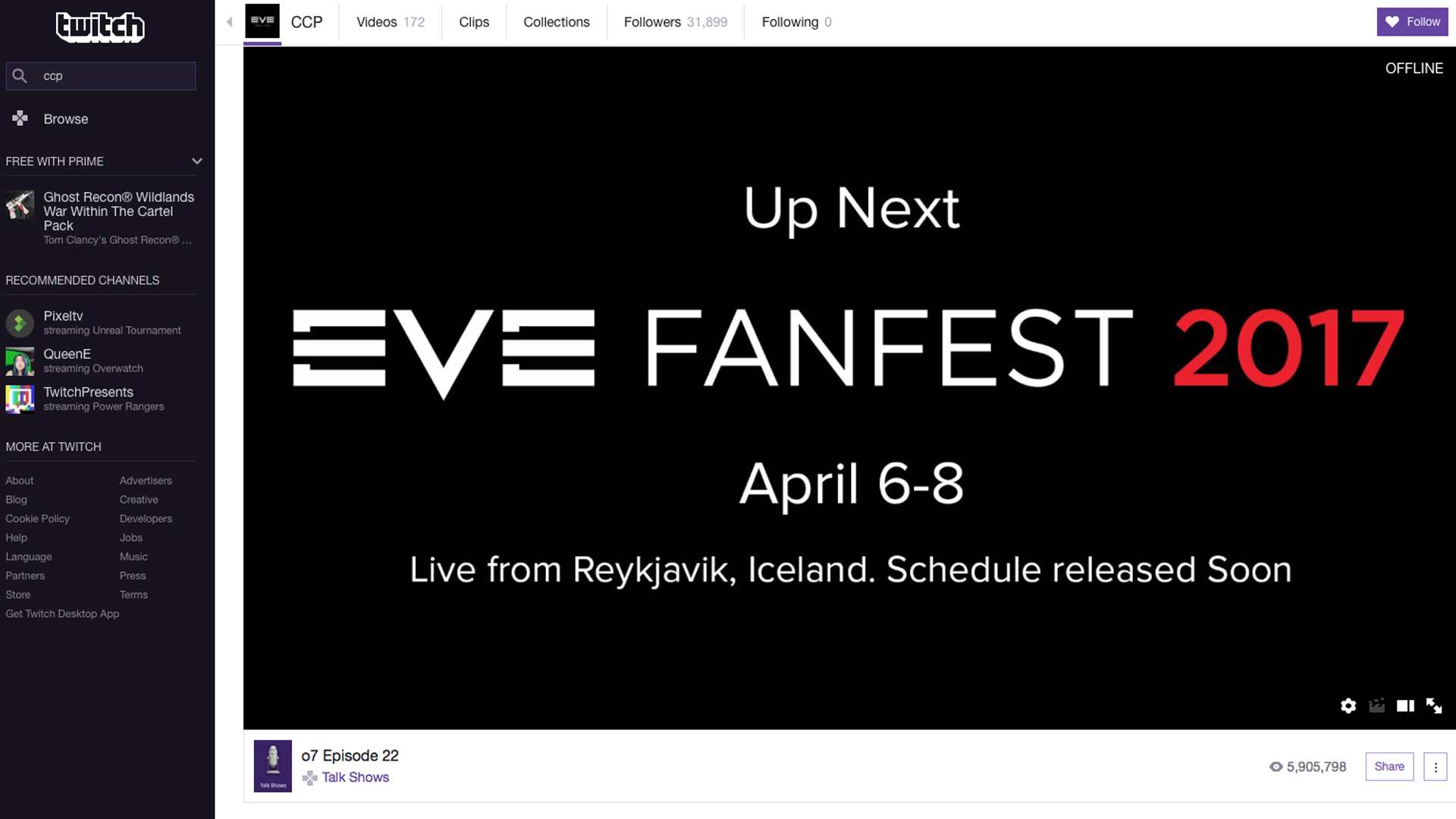 Head over to the Twitch.tv link here, and you'll find a whole bunch of amazing footage to feast your peepers on, including previous live streams from our dedicated band of pilots. In addition our official CCP Games channel is the place to catch up on live streams during big events like the upcoming EVE Fanfest in Reykjavik, where CCP Roo will be hosting a Valkyrie presentation.
As you can see, there's a wealth of choice in how to enjoy Valkyrie outside of the headset and share your experiences with like-minded individuals. So, get social and join the conversation.