Welcome, pilots! It's time for your monthly round up of all the latest from New Eden and hot bulletins from EVE: Valkyrie community. If you want to know what's going down and what's coming up, read on.
Upcoming events
Last month we told you about the latest community initiative to help out deserving causes: CCP's Emily Knox (AKA CCP Starbug) and John Nejady (CCP Bosun) are in training to take part in the Great North Run to raise money for specialeffect, a charity that helps provide access to video games for young people with disabilities who'd otherwise miss out.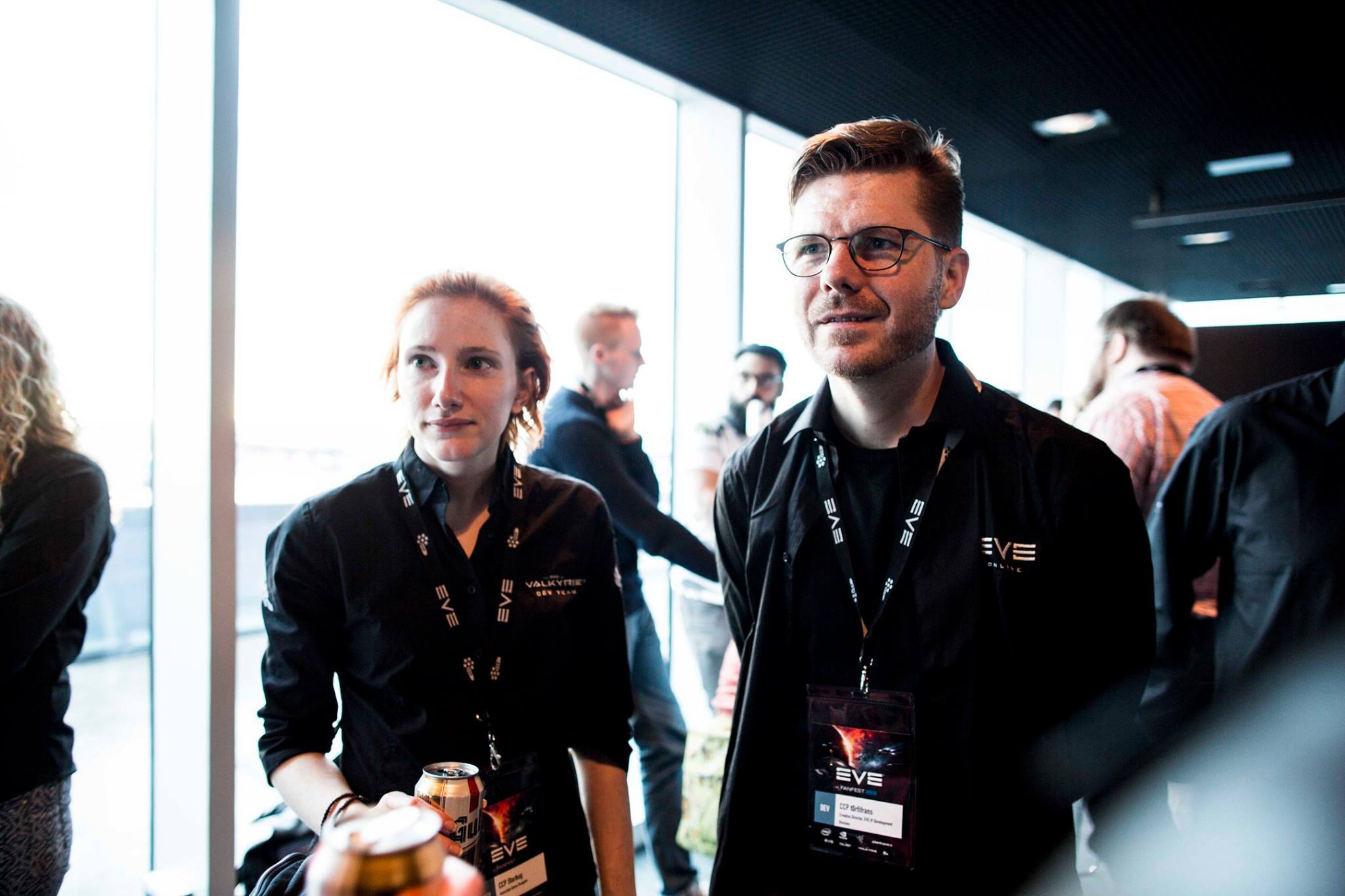 There's just over a month to go until the Great North Run takes place on 10 September, and if you'd like to give Emily (as seen in the picture above) and John a bit of support, you can find Emily's Just Giving page here, while John's is here.
And if you want to find out more about what they're doing and why specialeffect is so important to them, here's your chance. Emily, along specialeffect's Mark Saville and CCP's Stevie Ward (AKA CCP Redcape), who has previously helped to raise funds and awareness for specialeffect, rocked up for a chat with the Bammsters podcast last week to explain all about Special Effect's work. You can listen here.
Not all Valkyrie-related events are about getting up early and running 13 miles, though. If you'd rather just hang out with some like-minded folks, why not get together for a meet-up? The second Newcastle UK Meet is coming up fast on Saturday 5 August, and it's the perfect opportunity to get together with some fellow pilots – and maybe even a few people from CCP – for beers, chat and fun in Valkyrie's home town.
It's all being organized by GeneralStargazer, and it's taking place from 3PM until midnight at The Central (Head of Steam) pub in Gateshead. You can find out more about it in the forums; don't forget to book yourself somewhere to stay if you're planning on making a night of it.
Community communiqués
Beyond meet-ups, the lengths to which the EVE: Valkyrie community will go to demonstrate their love for the great game never cease to amaze us. Some community members have even been showing their commitment in the most permanent way imaginable, in the form of Valkyrie-inspired tattoos, and the latest to join their ranks is Anska.
Everyone loves a spiderbot – at least the friendly ones – but maybe none more so than Anska. A support class specialist who's shared her knowledge in many pro-tip and mini-masterclass articles on the Valkyrie site, she knows a lot more than a thing or two about spiderbots, and now she's joined the ranks of the Valkyrie Tattoo Club with this incredible spiderbot tat.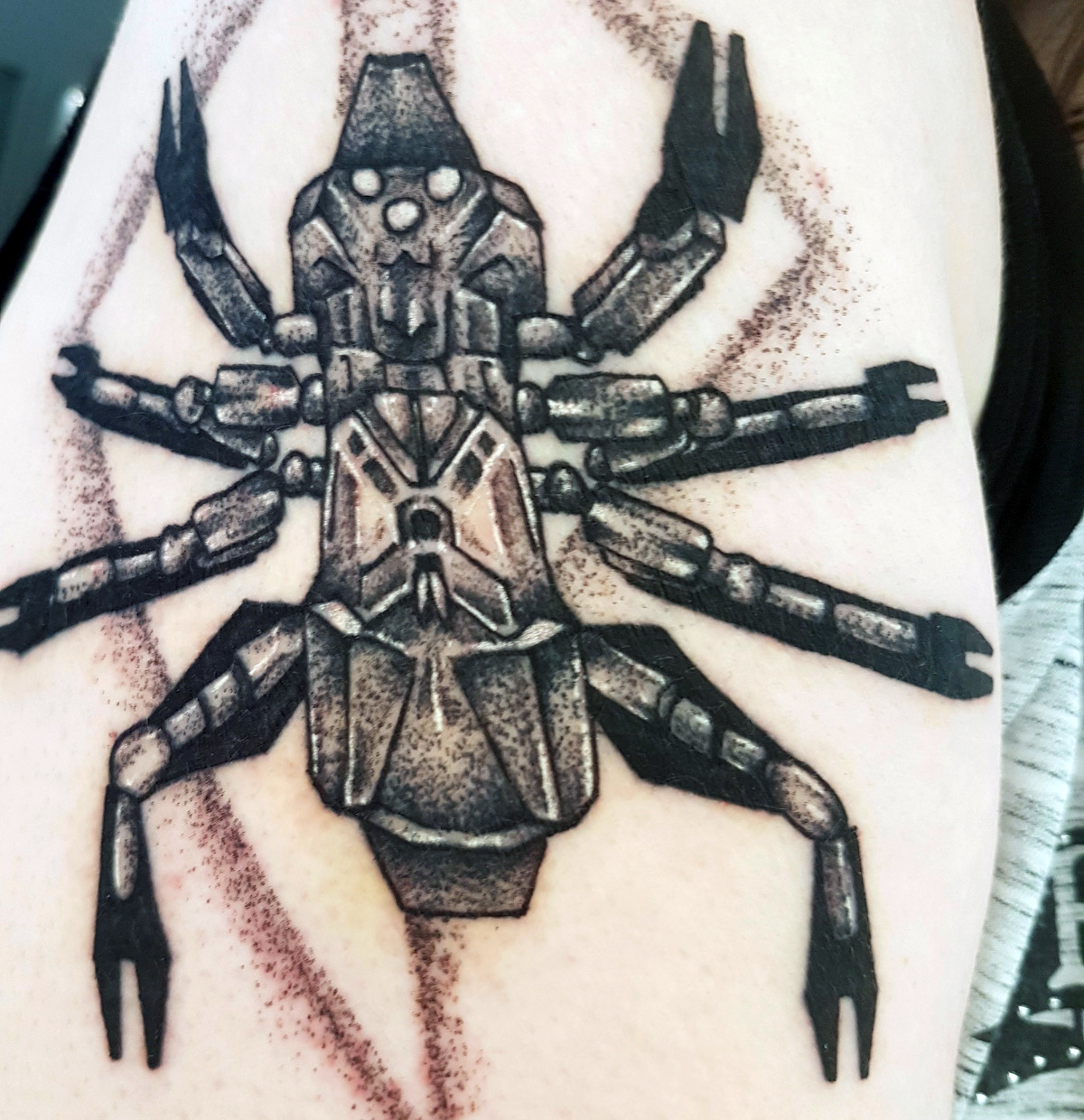 It started off as Anska's own doodle, which she took to Sooz at the Owlcat Artist Collective tattoo studio in Aberdeen. "She was really fantastic," says Anska, "and took my quick little doodle that made it look like the spiderbot had spanners for legs, and turned it into what you see."
It took Sooz about three hours to create Anska's gloriously detailed spiderbot; why go to all that trouble, though? "I got it to remind me of all the fun I've had with the game, all the friends I've made and met and how supportive and friendly the community can be," Anska tells us, "The memories I've made from game events with other players have been amazing."
It's an amazing piece of work and we salute Anska's dedication to the cause; she's planning to be at the Newcastle Meet on Saturday, so you might get to see it in the flesh there.
Wormhole Wonders
When they're not getting inked, the pilots from the Valkyrie community are counting the days until the weekend, when they can forget about the normal rules and dive into a new Wormhole for fun in corrupted maps with unexpected ship and weapon capabilities.
Recently the community was asked which wormhole it would like to see return for another weekend, and the runaway winner was Goldenroad, a warped version of Crossroads bathed in shimmering golden light, where everyone's flying a Wraith with no shields. And the most recent Wormhole event saw pilots getting together for some advanced Heavy formation flight; check out these stunning GIFs from SalsaKetchup:
News from New Eden
Some great news for EVE: Valkyrie: Road to VR recently compiled a list of the best cross-compatible multiplayer games for Rift, Vive and PSVR, and Valkyrie came out on top! Praising it for not bogging you down in the complexity of other space sims and instead letting you jump directly into intense twisty-turny space battles, Road to VR also gave props to its regular updates and new modes, and concluded that it "proves to be one of the easiest games to jump into for quick, but intense dogfighting sessions." So huge thanks to the Valkyrie community for continuing to make it such an awesome online experience, over a year since its initial launch on Oculus Rift.
And if you're playing on Rift or Vive and have a GPU that's up to the task, you may have already had a chance to experience Valkyrie's new Ultra settings for NVIDIA graphics cards. If your rig's packing a GeForce GTX 1070 or better, these new settings, developed and adapted for EVE: Valkyrie in partnership with NVIDIA, bring improved performance, smoother anti-aliasing, and a raft of graphical enhancements.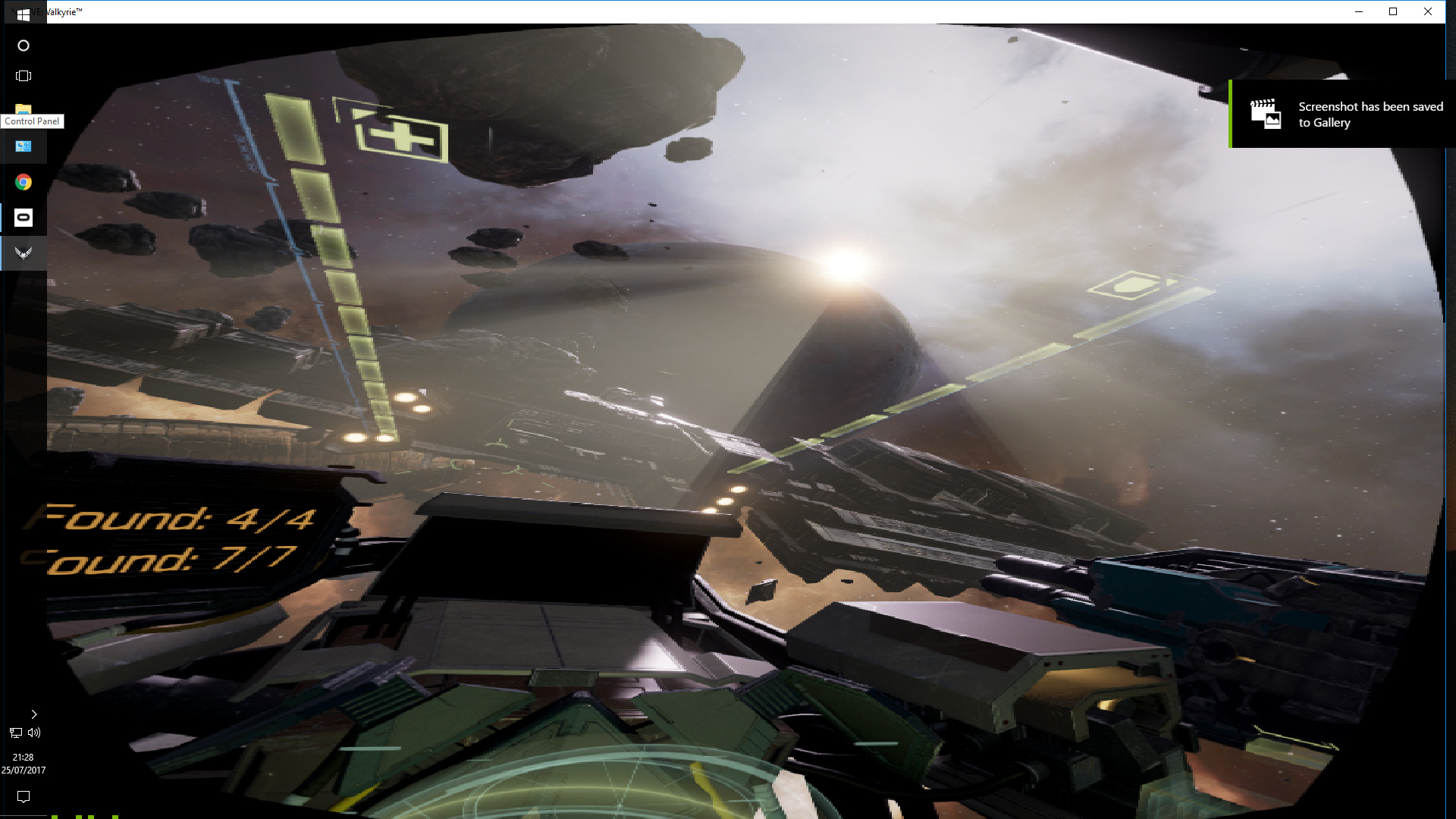 The EVE: Valkyrie community has been loving the new settings, especially the addition of stunning volumetric god rays; they've been sharing their screenshots - such as the one above from BareGrills - and we want to see more. So either add your own inspiring shots to this forum thread, or post them on Twitter with #EVEValkyrie and we'll be sure to retweet our favourites. Show us what you got!
There's plenty more coming up this month, keep checking back here for further EVE: Valkyrie news as it happens.
For now, though, fly safe and have an amazing August.