Well, the winners are you…. all of you. And by 'all of you' we mean anyone who's a fan of EVE: Valkyrie. This year's event at the Planet Hollywood Resort & Casino has drawn to a close and we think it was the best yet, not least because as well as all the cool EVE Online stuff going on, there was also a stack of great Valkyrie entertainment to be had.
Fortunately, contrary to the popular phrase "what happens in Vegas, stays in Vegas" you can still check out what went down in Nevada, so let's take a look.
Full Steam Ahead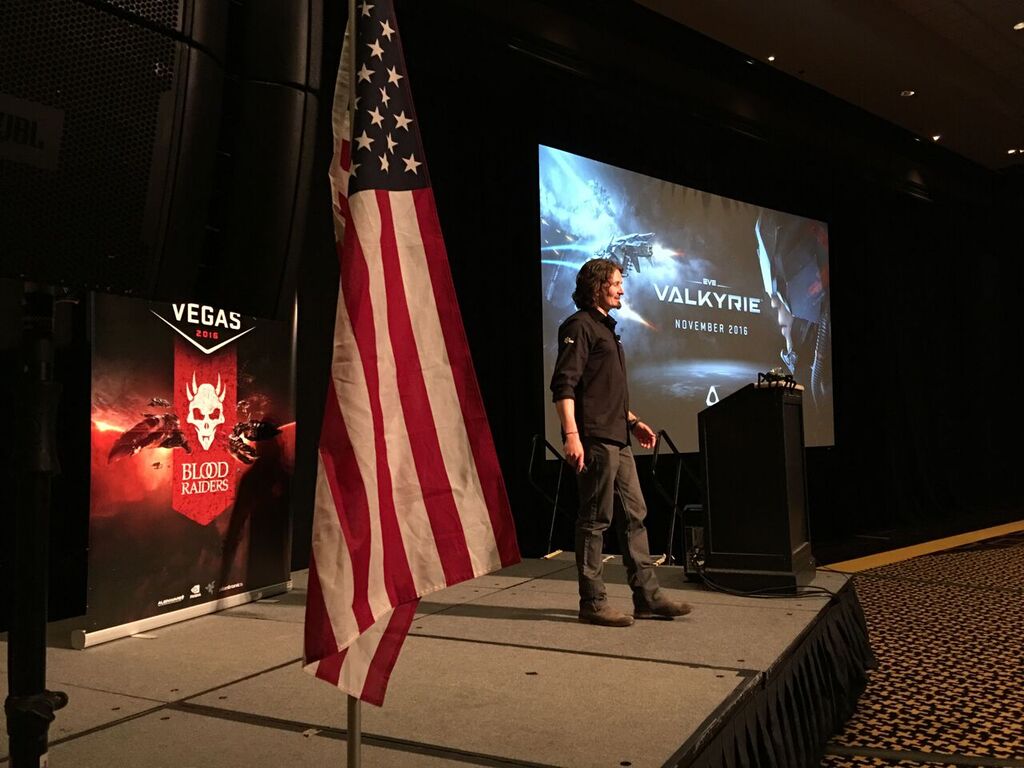 As had been recently teased, it was confirmed at the show that EVE: Valkyrie would indeed be landing on Steam and the HTC VIVE VR platform in November. Following the game's successful debut on Oculus Rift and subsequently PlayStation VR earlier in October, it's a source of great excitement to us that within weeks we will be welcoming yet another group of VR gaming enthusiasts into the ranks of the Valkyrie. Be sure to check back regularly with us in the days and weeks leading up to the launch for updates on this exciting development. In fact, on 4 November we're going to take a look at the wonders of VIVE and what it might mean for Valkyrie. Be here.
The PlayStation VR Story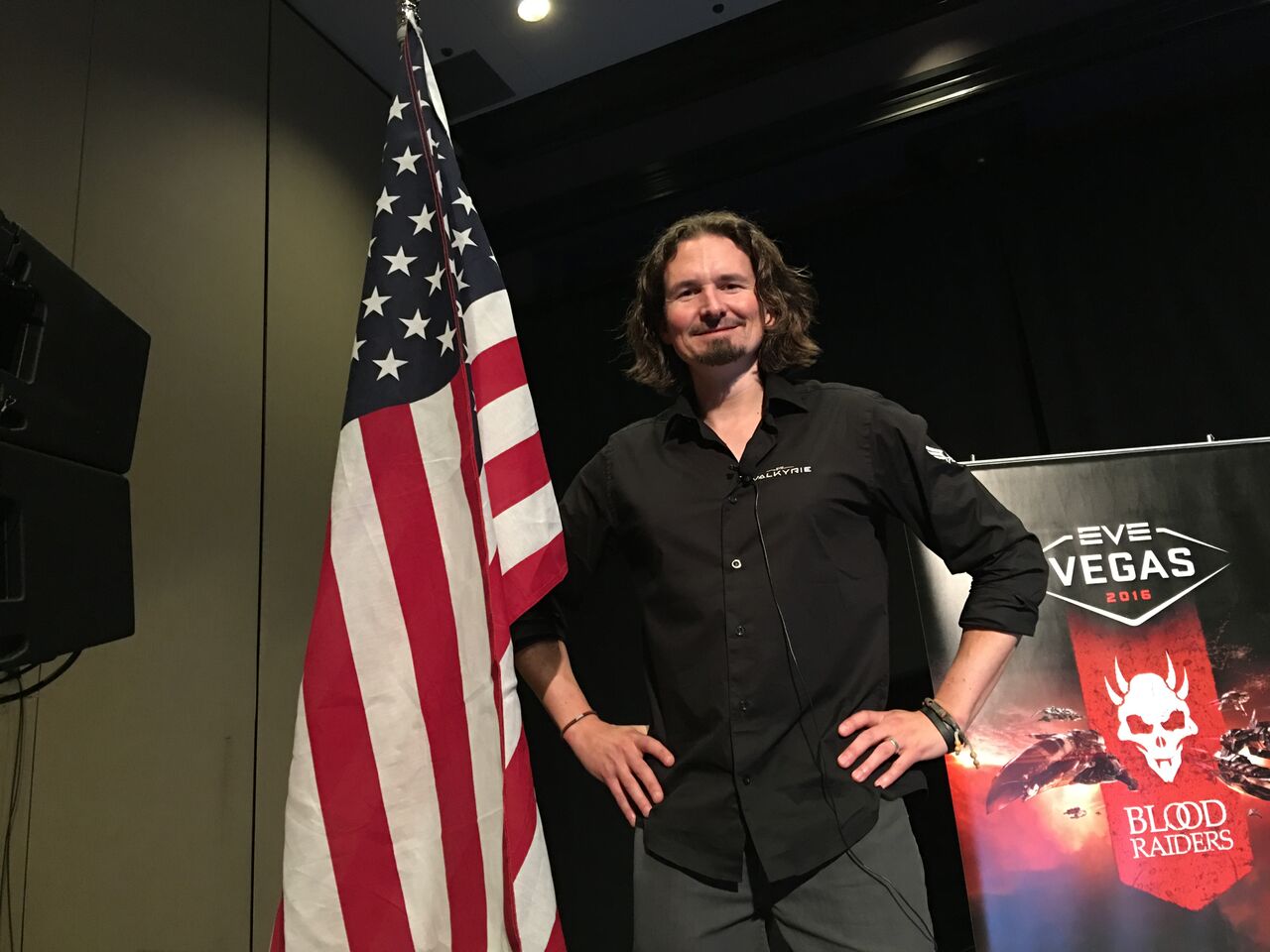 If you want to check out the HTC VIVE announcement for yourself, it was part of a larger presentation from Andrew Willans, Lead Game Designer on EVE: Valkyrie. Over the course of an hour Andrew took us through the fascinating journey of bringing our deep-space dogfighting experience to Sony's new VR platform. It's no easy feat to create an immersive galactic combat shooter in the first place, and to do it on two different platforms allowing cross-play between the two brings even more challenges so it's well worth hearing from Andy how it came about. Footage from the event is still available on the CCP Twitch channel and you can find Andy's segment at 38 minutes in.
Tournament of Champions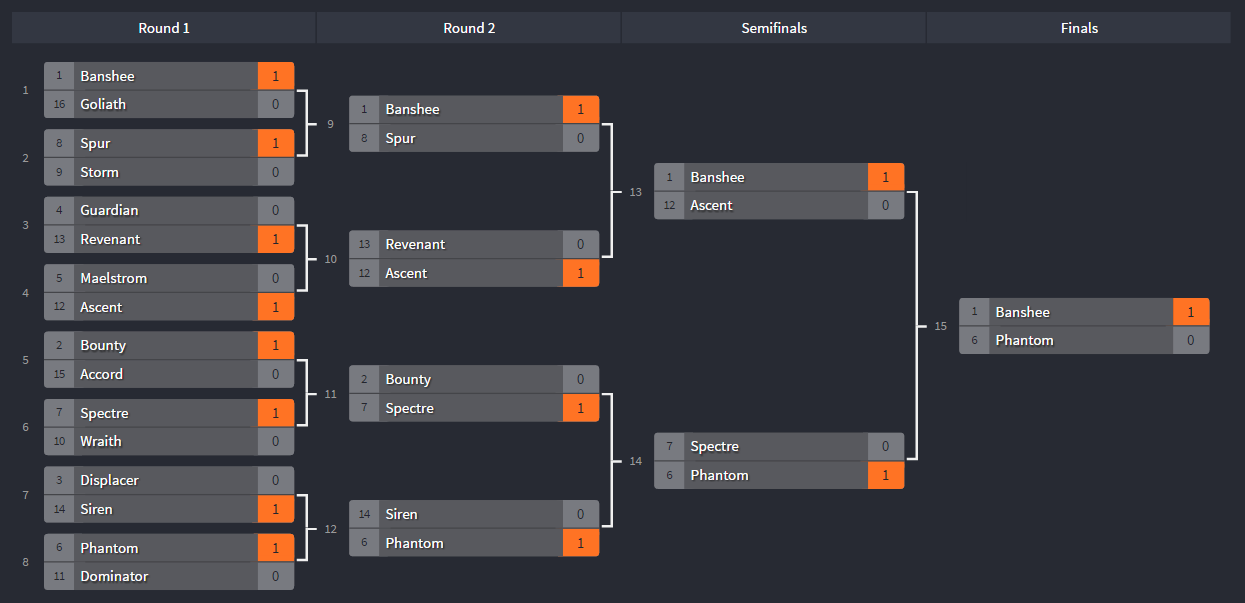 The main event for Valkyrie players was the EVE: Valkyrie Tournament of Champions. Running over two days, the first day saw 64 ace Valkyrie pilots coalescing into teams and facing off in a clash of galactic proportions.
After three rounds of brilliantly bruising battling, the final shakedown featured teams Banshee and Phantom. It was a bravely fought contest but in the end the fearsome Phantom pilots couldn't quite overcome the might of Banshee.
None of the finalists left the arena empty-handed though. Each of the runners-up got a fantastic goodie bag containing, among other treats, a Samsung Gear VR headset and a stunning signed and framed piece of Valkyrie key art.
The winning members of team Banshee – namely Cordell Volante, Durand Severasse, Leehams DaWildabeast and Lysus – similarly got a goodie bag and the opportunity to return on day two to take on the champions from the Rumble in Reykjavik tournament at EVE Fanfest held earlier this year.
Sunday's face-off was to be a fiercely competitive battle of wits but in the end, the strategy, quick thinking and exemplary teamwork of Fanfest winners, the Invaders, meant that they once more lifted the trophy. So, massive big-up to Invaders teammates Ladel, Tern, Wan5 and Frag Solo. They each waltzed off with a Geforce Titan X for a prize. Not a bad day's work, then.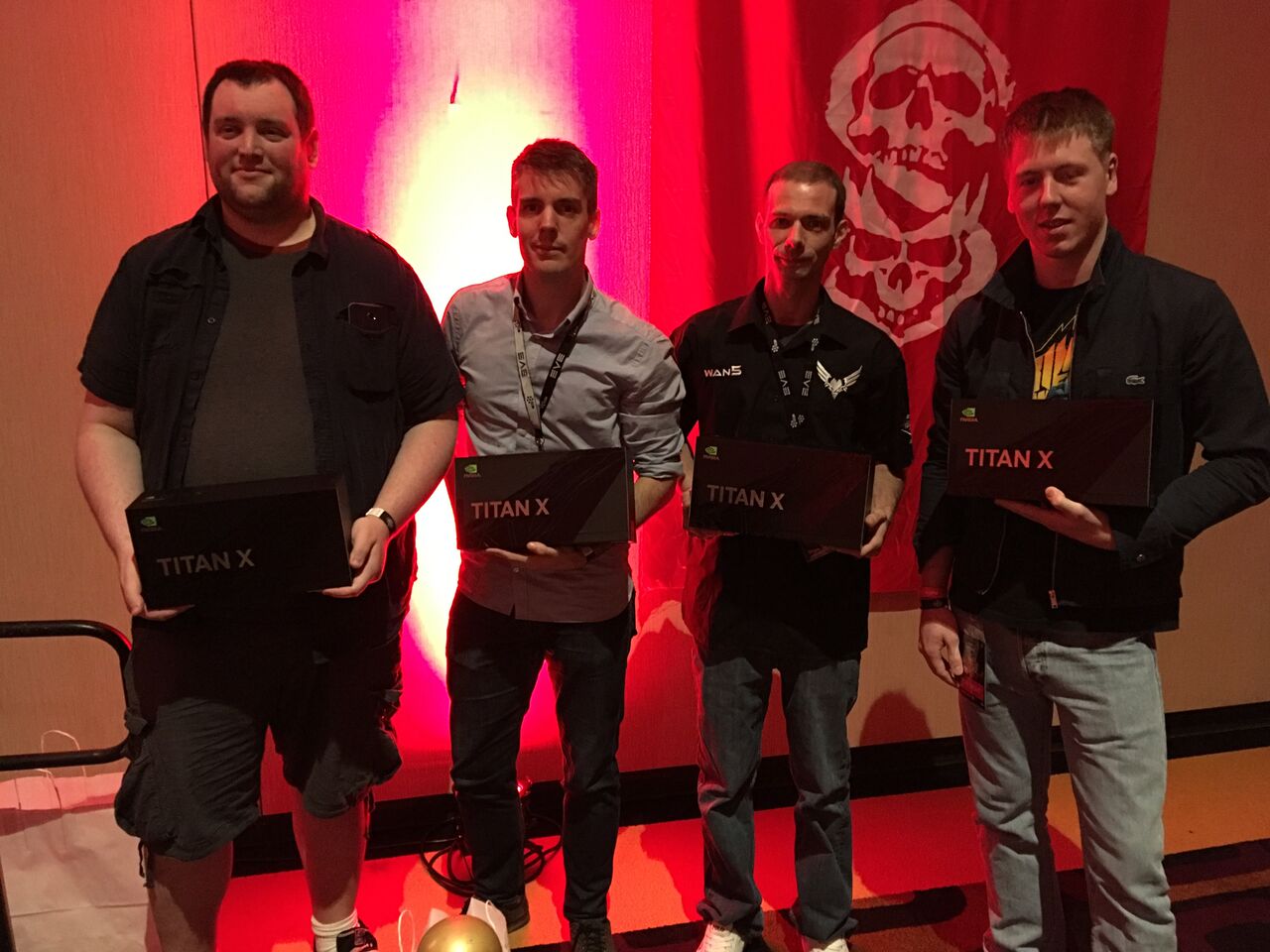 Thanks also to the runners-up, team Banshee, who gave us so much great entertainment. We hope you all enjoy your Geforce GTX 1070 GPUs!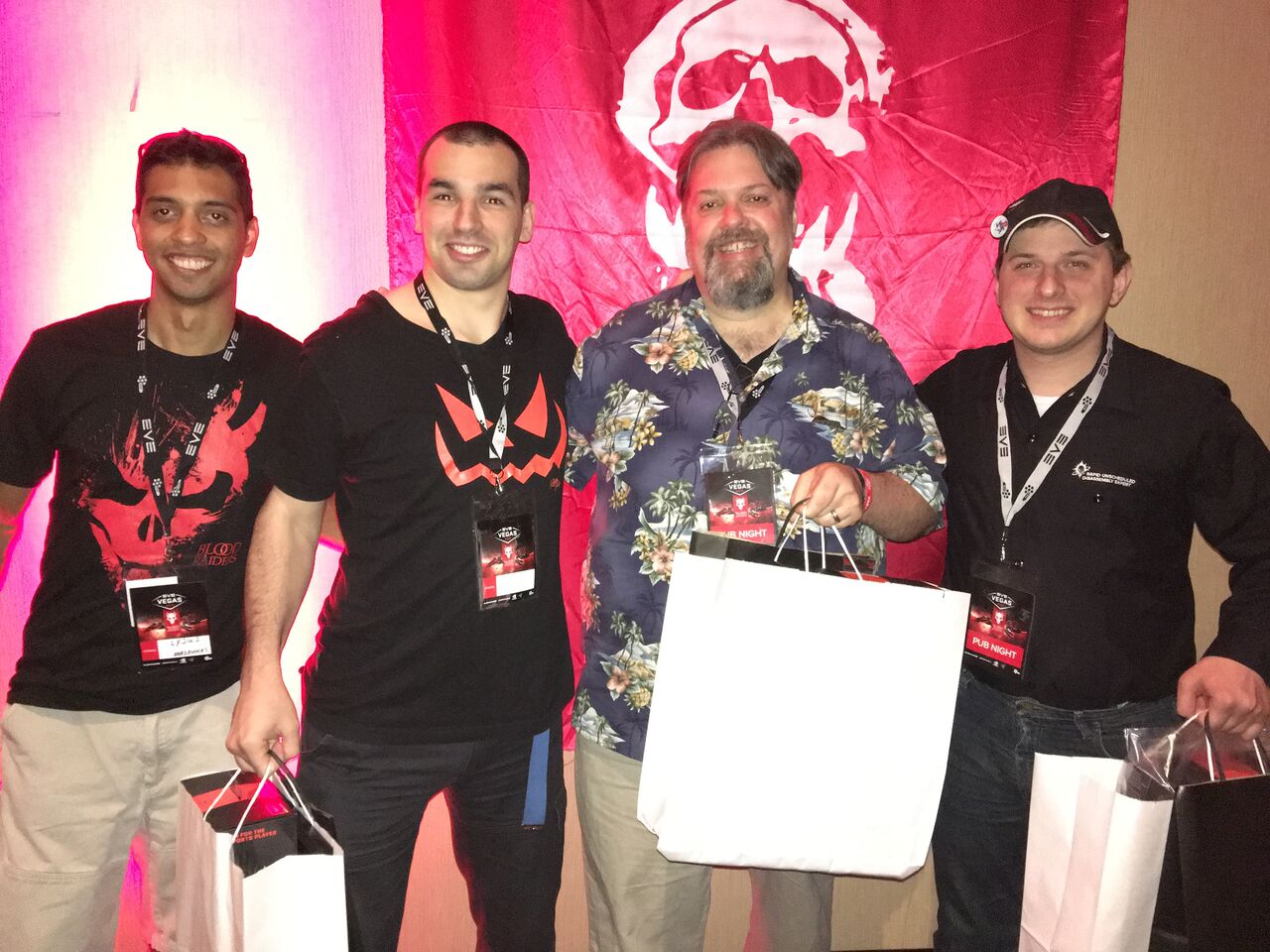 It was an awesome spectacle which clearly went down well with those participating as you can tell from their response on the Twittersphere:
Lysus – Team Banshee
#EVEVegas #EVEValkyrie Such an amazing game and tournament! I'm Hooked!!! Thank you to the Valkyrie dev team! @QuantumDelta You da man! pic.twitter.com/fyhHatQ3GZ

— Lysus - Philipe (@Lysus_Gaming) 30 October 2016
Cardinal Syn – Team Phantom
I took second in todays #EVEValkyrie Tournament at #evevegas Thanks for a great time teammates. Meagerminer, Kylee and Lord Servent. pic.twitter.com/OE98yxvxpa

— CardinalSyn (@CardSyn) 30 October 2016
Anska – Team Storm
So got some pic of team gb in the amazing shirt and tshirt done by @Blind_Hope #EVEVegas pic.twitter.com/KZg09ZzOlS

— anska (@ryakin) 30 October 2016
No doubt more footage and reactions from the event will emerge over the coming days so we'll endeavor to feed that through to you when we can.
Spooky Reminder On a separate note, as it's All Hallow's Eve we thought we'd quickly remind you that our EVE: Valkyrie Halloween Decorations Contest is open until 23:59 on November 1 (UTC) so if you can get your entries in quickly, you can still be in with a chance of winning a Limited Edition EVE: Valkyrie Xbox controller. It's a frighteningly great prize, we think you'll agree.
Head over to the blog to find more details about how to enter.