The beauty of EVE: Valkyrie – Warzone is that it's so easy to get up and running, but if you're simply dropping in and playing against randoms then you're missing out on a whole other social dimension that's been part and parcel of the Valkyrie experience since day one.
There's a stack of ways that you can massively enhance your Warzone time, and an entire community out there that's happy to talk tactics at all hours and give you all help you need to build a respectable K/D ratio. They'll even explain what a K/D ratio is if you're really stuck.
It's easy to start getting extra social joy out of Warzone – here's our quick guide to all the places and tools you need to know about in order to find some space friends.
The Forums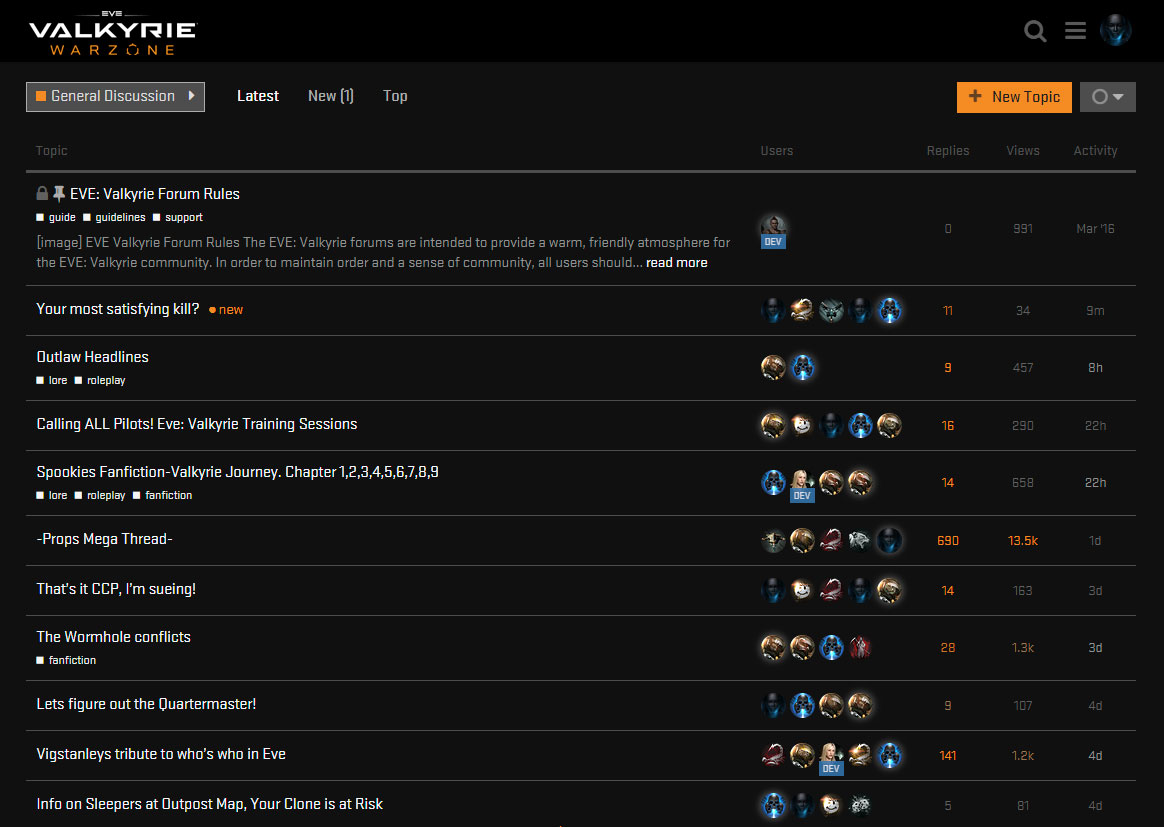 Got Warzone? Your first port of call should be our forums; they're the best place to get to know other players, find out what's happening in the world of EVE: Valkyrie, and pick up helpful tips on how to get the most out of your game. The forums are regularly patrolled by the CCP crew, ever-eager to share tidbits of upcoming news, and there are plenty of kindly veterans on hand who are similarly keen to share the knowledge they've accrued over thousands of hours' flight time. So don't waste any time; sign up, join in and play nice.
Discord
All the cool kids know that Discord's the only way to talk to fellow gamers online these days, and EVE Valkyrie – Warzone's up and running with its own Community Run Discord server (although several 'pet devs' are known to pop in on occasion). You'll need to install the Discord client, which you can find here, then follow this link to get an invite to the Valkyrie Discord server, then you're good to go. With Discord you can enjoy always-on voice comms with other players, as well as text chat and private messaging, so it's the perfect way to organize a match with the minimum of fuss.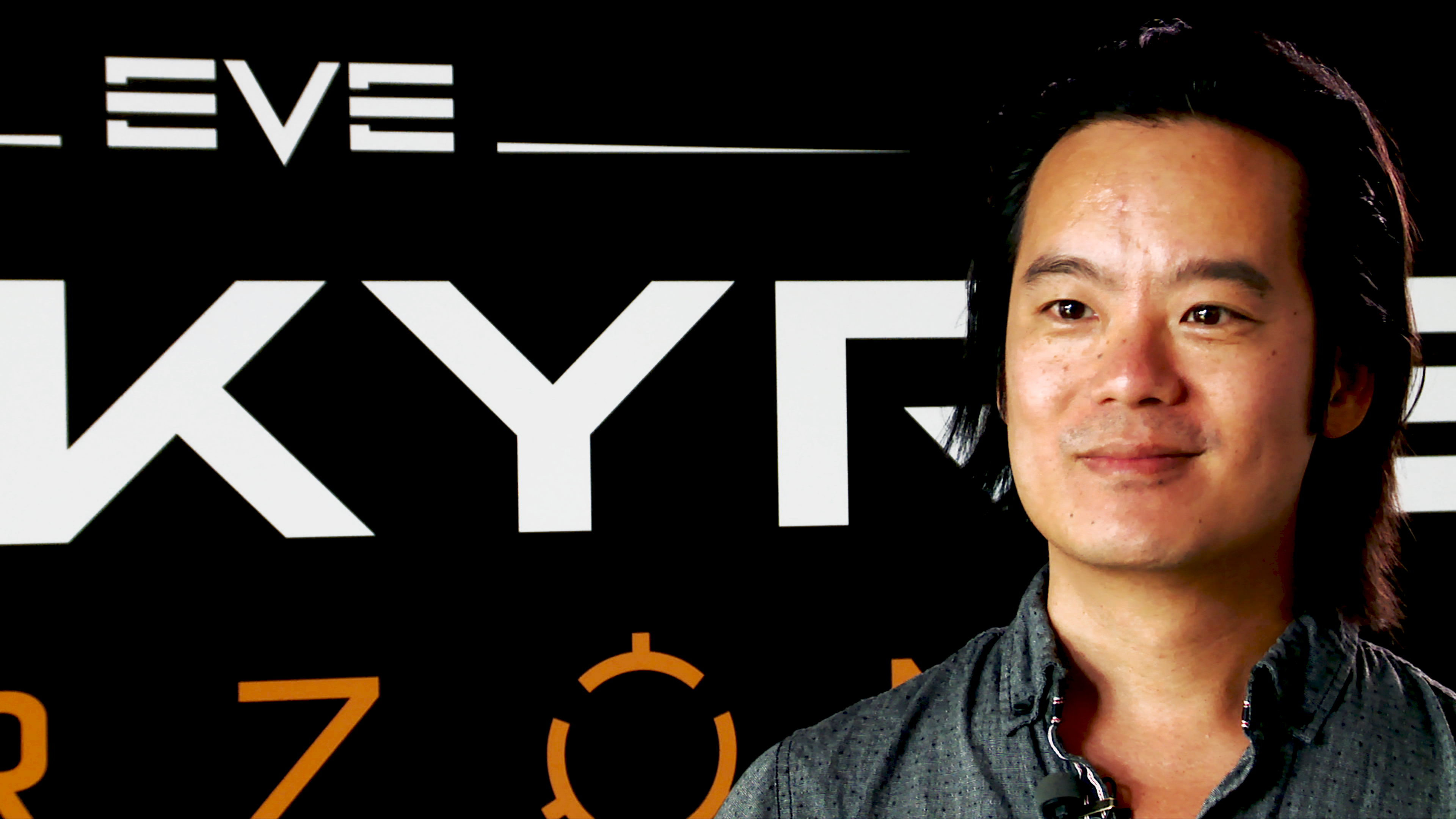 Need to know more? Valkyrie veteran SuperKev has written a comprehensive guide to getting up and running with Discord; find it here.
Squads
Playing Warzone with randoms is good for a while, but if you want to take the fun to the next level then you need to form a squad. Squads can be formed with a maximum of five players on the same platform (Steam, Oculus or Playstation), and once you're set up with a squad you'll all join the same battle on the same team, making the combat that important extra bit more personal.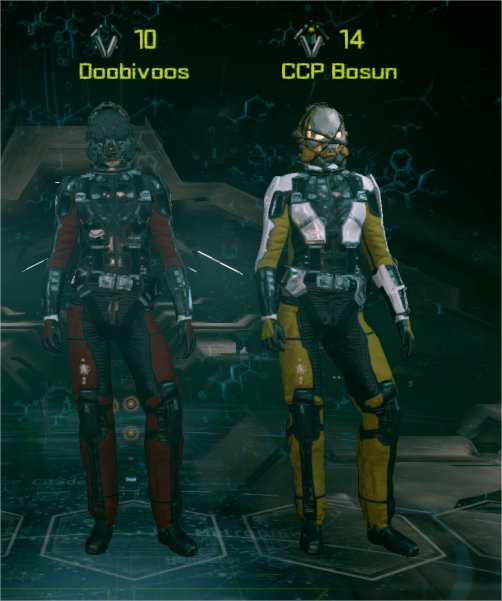 Forming or joining a squad is easy, and it'll change the way you play Warzone forever; to find out more about it, check out this helpful guide. And if you're on PS4, here's some extra information that'll give you more help and also provides the lowdown on PS4 voice comms (if you can't use Discord).
Steam Community
Beyond our own forums, EVE: Valkyrie – Warzone has its own Steam community where you can pick up the latest news, chat to other players and share screenshots of your latest exploits. And if you've bought Warzone on Steam and want to share the love, why not add a review?
It's the perfect way to give something back – and to tempt new blood into the game, so you're never short of someone to team up with (or to sneak up on with a Silent Whisper).
PSN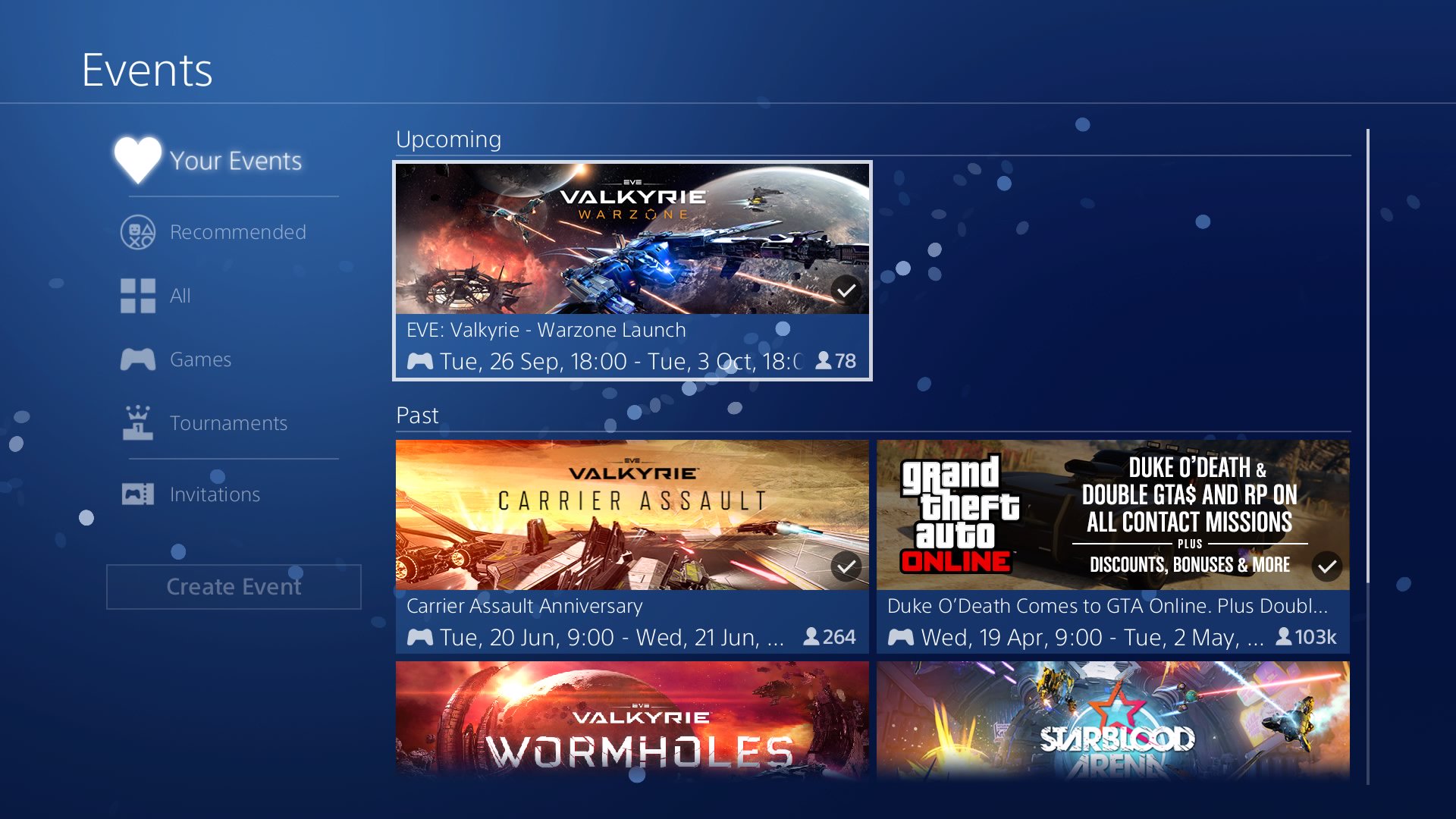 For those of you playing Warzone on PS4, there are Valkyrie communities on PSN, with a squad finder to help you meet up with like-minded pilots and helpful reminders of upcoming events so that you can mark your attendance and ensure that you never miss out on wormholes, double XP or special events.
On top of that, the PS4's perfect if you want to share screenshots and videos, or livestream your matches; the PS4 Share button on your controller makes it almost criminally easy to capture your greatest kills or broadcast your matches as they happen.
EVE Meets
Sometimes being online Space Friends just isn't enough and you need to go that extra mile to meet your wingbuddy in the flesh. It's no secret that the Valkyrie have been using EVE Meets to organise their own meet-ups and EVE London has already been chosen as the next in-person event. EVE London is the longest running EVE player event in the world, having run for over 10 years! For more information on this event, check out the website.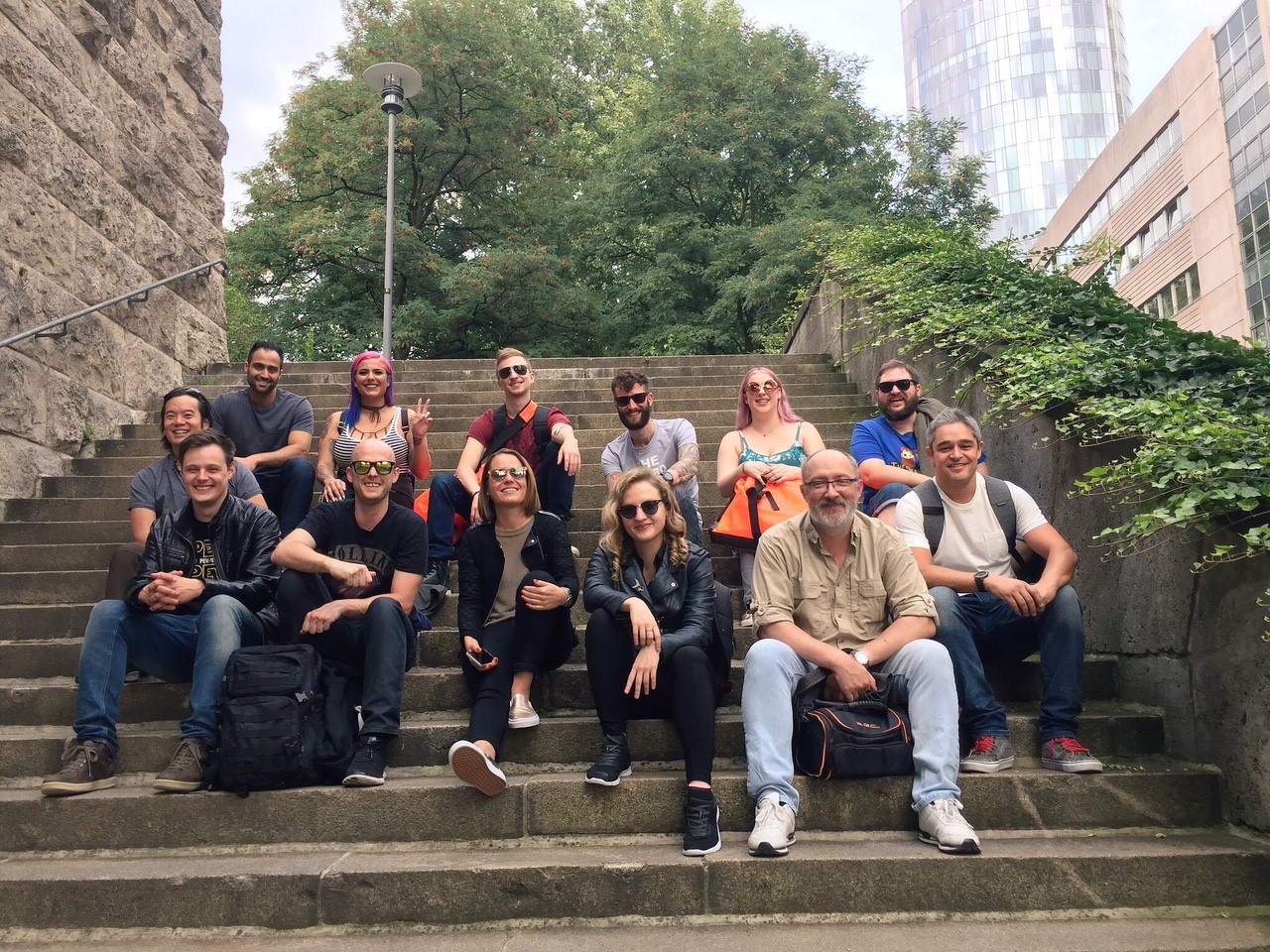 There are even rumours circulating of going for an Indian meal before the festivities begin. Perhaps a new tradition of going for a "Val-curry" is in the works. (har har)
Get creative
Want even more out of your life in EVE: Valkyrie – Warzone? You can be sure that the community will help get your creative juices flowing. Our pilots have rolled up their sleeves and created all sorts of things over the past year or so, making their own fan merch, writing Valkyrie-inspired fiction and editing their own tips videos; here's one quick rundown of a few of their efforts. Some have even gone so far as to get themselves inked with Valkyrie tattoos along the way!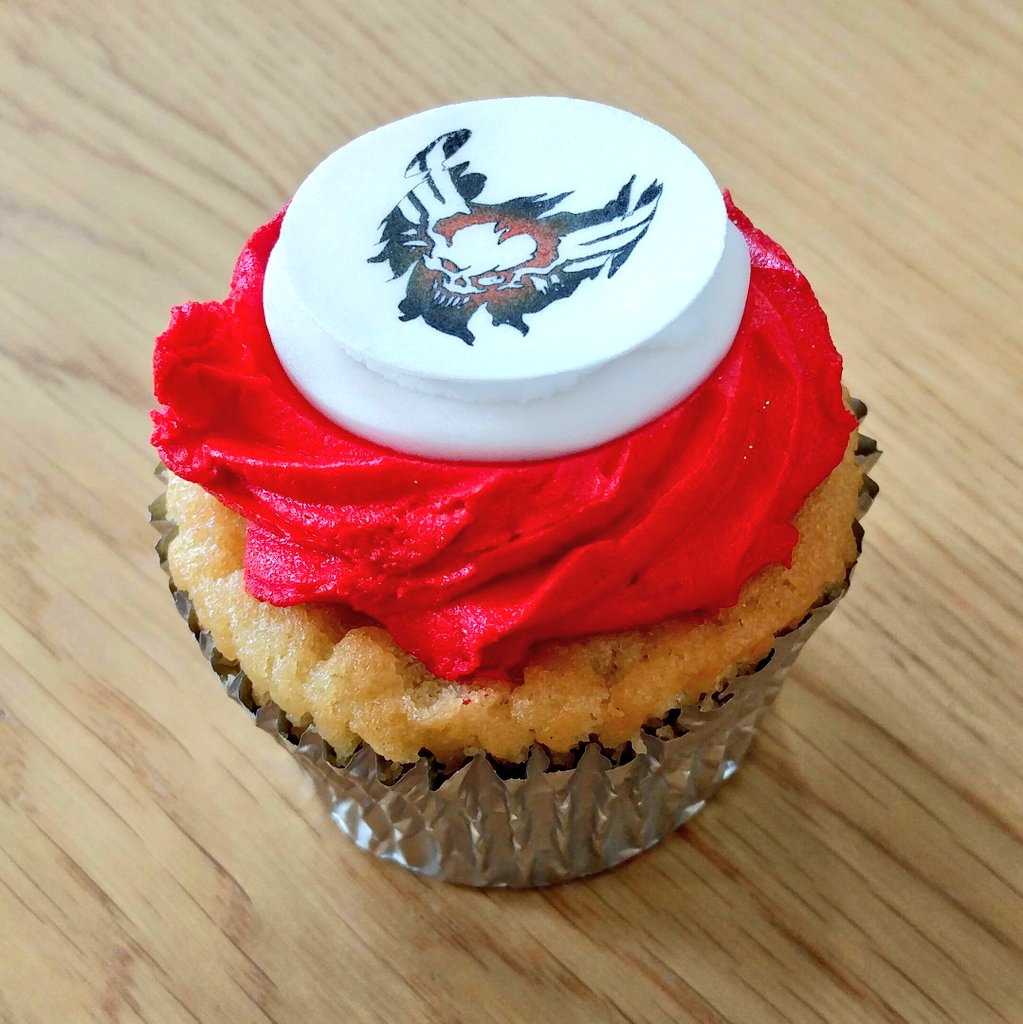 So should Warzone make you suddenly feel the urge to get creative, don't fight it; go with it, and make sure you share the results on the forums.