We keep sticking them up, you keep knocking them down. The ever-popular Wormholes have been entertaining us for months now so we thought we'd begin to bring you a monthly roundup of all the action so that existing pilots can reminisce, and rookie pilots can get a taste of what they're missing out on.
What follows is a rundown of all of June's Wormholes so far, each accompanied by a video from ace streamer SalsaKetchup who has been heroically documenting the events right from the very beginning.
It's our intention to create a permanent record of EVE: Valkyrie's Wormhole events so keep coming back and we'll keep you posted.
After the round-up, we'll let you know all about this week's wonderful Wormhole event.
Week 16 – Instant Death (June 2-4)
Wormhole: 45B/225-51JP5
Map: Fire Forge
Ship loadout: Maelstrom, Aegis
Game type: Team Deathmatch
Details: This fiercely fought wormhole came with both friendly fire and zero shields. No room for error here with rapid demise being a signature dish served frequently. The results were often chaotic, but enormous fun.
Video Record:
Week 17 – Fast and Furious (June 9-11)
Wormhole: 31A/643-50LH5
Map: Cathedral
Ship loadout: Revenant, Siren
Game type: Single point control
Details: The warped structures of the alternate Cathedral map provided a stunning backdrop to a series of matches characterised by their swiftness and concentration of action. The single control point resulted in some intense dogfighting.
Video Record:
Week 18 – One ship, One Massive Bust-up (June 16-18)
Wormhole: 00A/955-55JE5
Map: Goldenroad (Crossroads)
Ship loadout: Guardian
Game type: Team Deathmatch
Details: Nothing but Guardians on this one. The result? A constant hail of Gatling gun fire from every direction. However, smart squads were able to utilize the mix of firepower and healing to their advantage.
Video Record:
Week 19 – Pretty and Profitable (June 23-25)
Wormhole: 13B/745-54JD6
Map: Nightyard (Shipyard)
Ship loadout: Dominator, Aegis
Game type: Team Deathmatch
Details: The conditions were dark and foreboding, but there was a lot to enjoy here. The beautiful rainbow trails are always a treat to see, super boost is just the boss, and with each enemy downed, there was a bountiful supply of salvage.
Video Record:
Wormholes are quite a rollercoaster, aren't they? Having taken a look back at June's adventures beyond the conduit, allow us to slip back into Valkyrie character and introduce you to this week's exciting event.
Attention Pilots! Assemble at Planet Esmes III in the Sinq Laison Region, Immediately!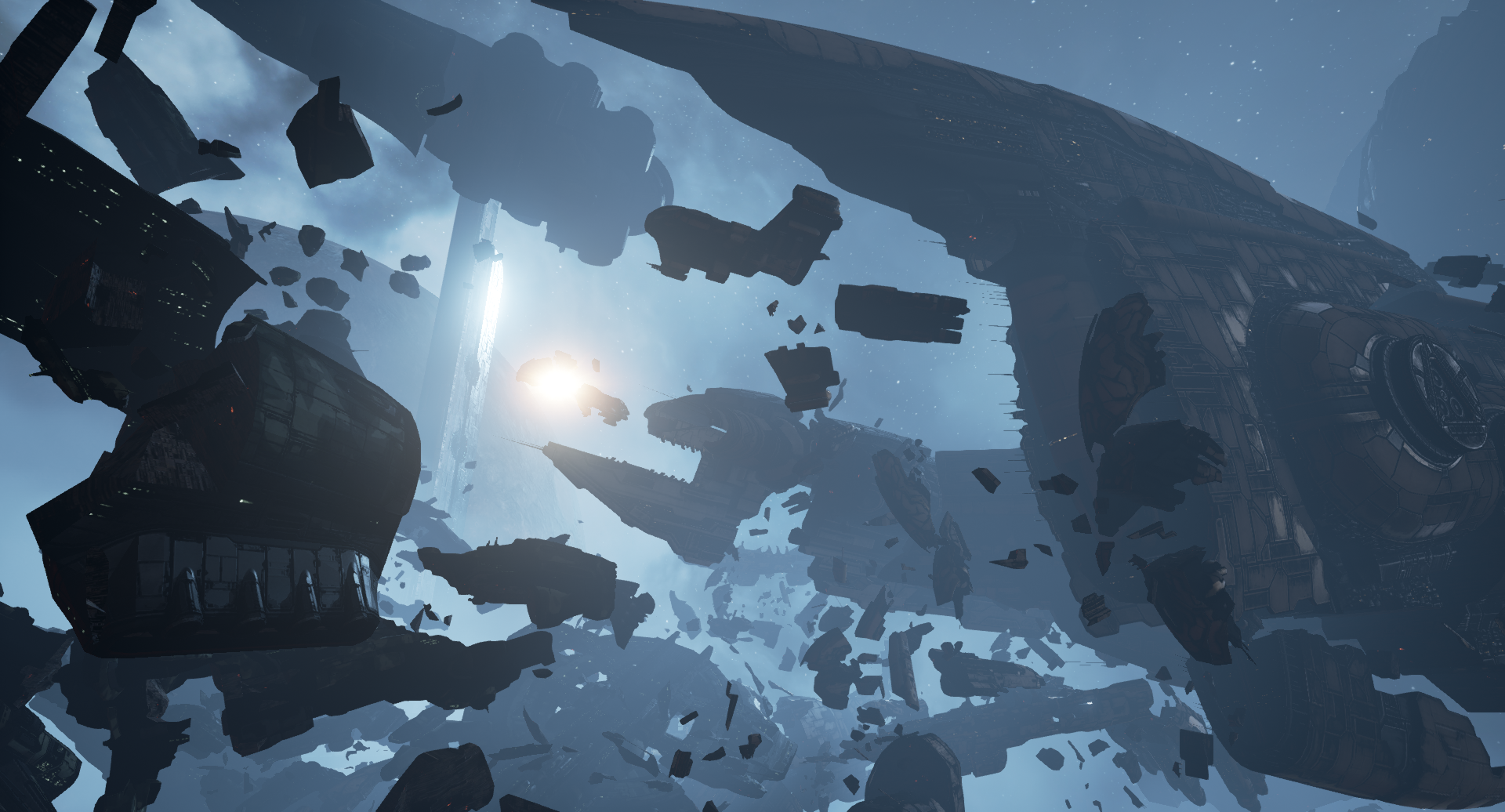 A Wormhole event is occurring near the galactic graveyard known as the Necropolis in the Sinq Laison region of New Eden. 
Schism forces have been intercepted at the site of the Wormhole and it is our understanding their intentions are to gain control of this strategically important trading space.
Wormhole 01A/469-53LU5 presents us with a challenging and distorted version of the Necropolis, not least because it is densely packed with mines that can destroy a ship on contact.
This is not a mission for the faint hearted. The battle to secure the three control points beyond the conduit will be fierce and unrelenting.
If your specialism is in piloting Wraiths, Spectres or Banshees, you are required to report head to Esmes II without hesitation.
Good luck out there!