We all know that there are few things in life better than climbing into the cockpit of your favorite space fighter and giving the Schism a good kicking, but after a few hours, you might find that your trigger finger's getting a little bit sore and you're in need of a little breather.
Right now all you can do in these circumstances is retire to the hangar to fiddle with your upgrades or maybe try out some new paint jobs, but as soon as the new Winter Update touches down you'll discover a whole new way to enjoy EVE: Valkyrie – Warzone, and that's Spectator Mode.
You've been requesting it for a long time, and we've been listening. Spectator Mode gives you the opportunity to drop into matches and simply watch the action unfold, and it comes with some great tools to give you the best possible view of every match without having to get your hands dirty.
Get behind the lens
There's no need for a big tutorial; it's designed to be as easy to get to grips with as your first Yurei. Once you connect to a match in Spectator Mode, you'll have full vision over the battlefield – much like the tactical map – with the ability to zoom and focus on a particular point of the battle. Then by selecting one of the in-game ships, you'll jump to a third-person camera tethered to it.
When you're in ship camera mode you'll naturally move around with the ship that you're attached to, but you can switch between assorted camera positions to get the best possible view, and of course, you can move the camera around to keep an eye on the action. With the left stick, you can orbit the ship, while with the right stick you can pan and zoom your view so that you never miss a trick.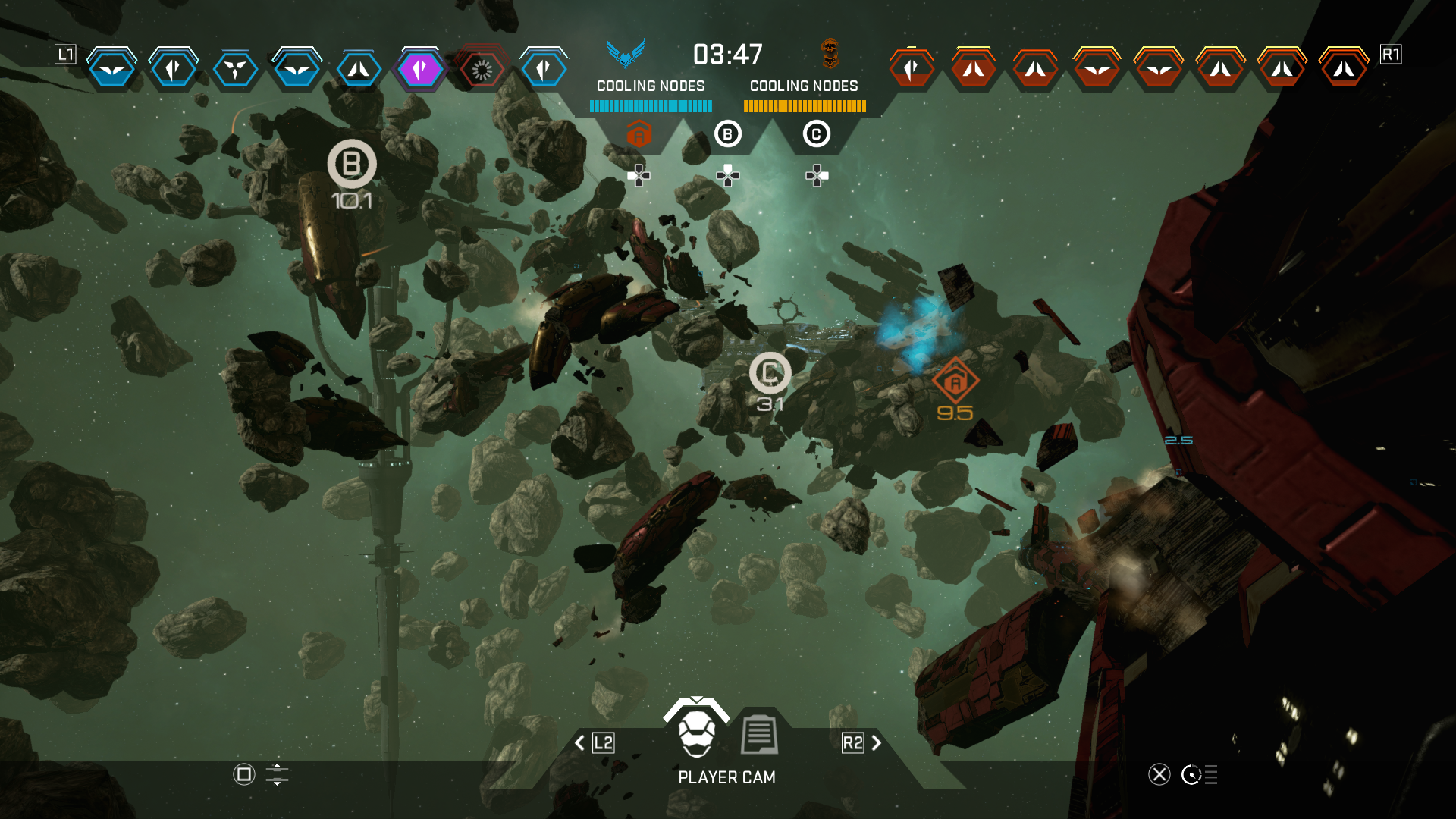 If you'd prefer to watch a different ship, with one button press you can switch to another, ensuring that you never need to be far from the action. But if all that whizzing around gets a bit much, there's another Spectator Mode option you can try as well.
On top of the ship camera mode, there's an alternative hotspot mode. Here, rather than being anchored to a ship, you can jump between cameras set at fixed points around the map. They're carefully chosen as the places where the action's going to unfold in any particular game – relic sites, control points, carrier cores and so on – so you can be certain that you'll have the best seat in the house for those pivotal in-game moments.
Watch, learn and create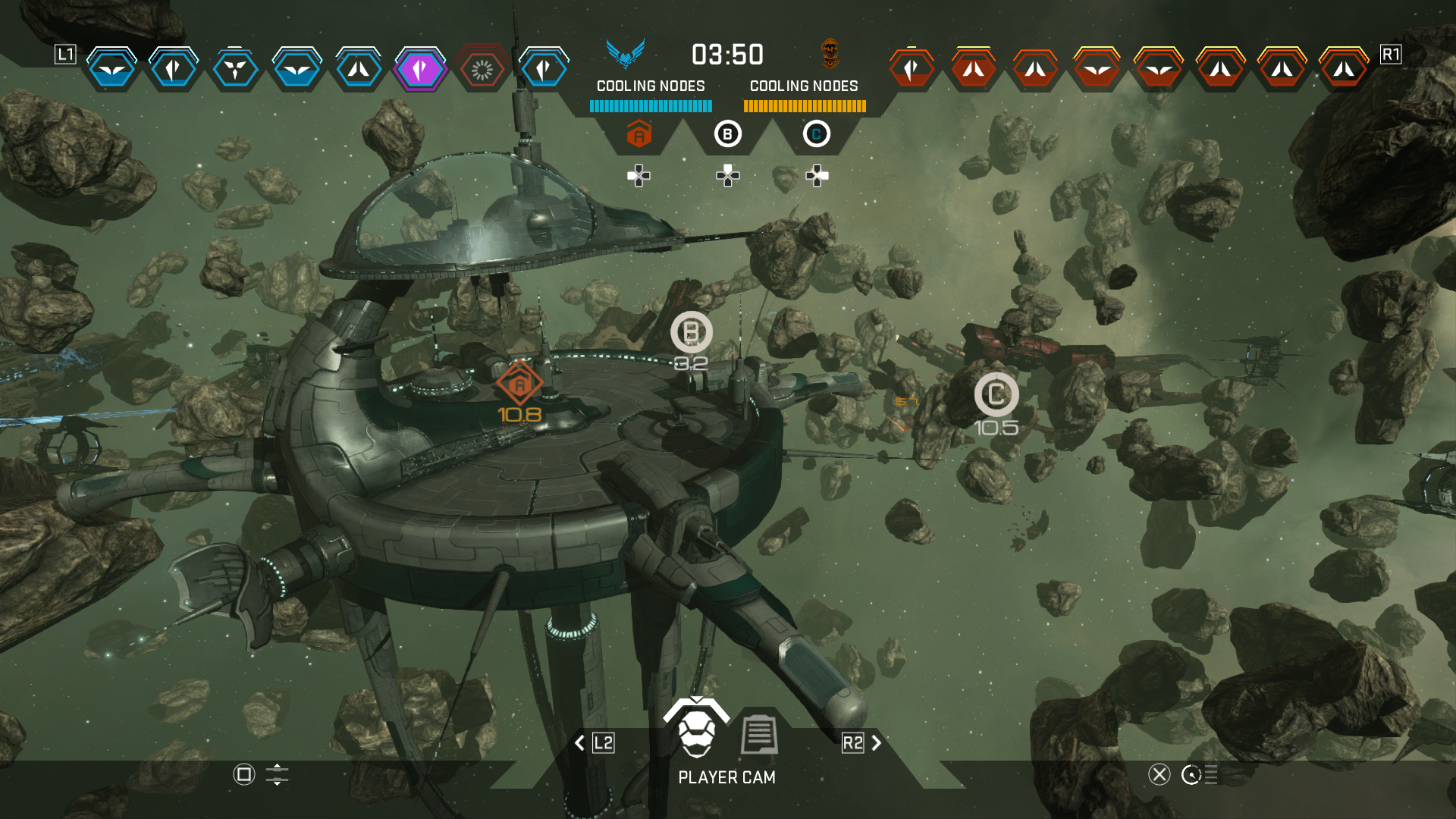 Spectator Mode's the perfect way to cool your jets without having to drop out of Warzone and deal with the real world, but it's also the ideal environment in which to watch the best players duke it out, and learn some of their secrets at the same time. Plus, of course, it's an amazing tool for putting on your director's hat to record or broadcast some epic space battles for everyone else to enjoy; once you've enabled Spectator Mode then it's just a matter of turning on your preferred broadcast software and sharing your footage with the world.
We can't wait to see what you do with Spectator Mode, and to encourage your creative glands we'll soon be announcing a special video competition designed to get you out there and filming some hot Warzone action.
There's not long to wait until the Winter Update's ready for you to grab, and as well as Spectator Mode it'll also be bringing with it another much asked-for feature, Custom Matches, as well as the incredible new Moon Refinery map. We'll have more on those very soon; in the meantime, fly safe!