It started out in VR, but now EVE: Valkyrie has been reborn as the ultimate cross-platform, cross-reality first-person space shooter. No longer do you need an Oculus Rift, Vive or PSVR to take part in epic online space battles; as long as you have a PC or PS4 then EVE: Valkyrie – Warzone is ready and waiting for you to climb into the cockpit.
And there's more to Warzone than simply letting the flatscreen folk join in the six degrees of zero-g fun; this is a major upgrade with some radical changes that you need to know about, whether you're a first time rookie or a battle-hardened veteran. So hold tight as we take you through what you can expect to be doing in your first hour in the Warzone.
Training
Newcomer or old hand, we heartily recommend heading straight to Flight School when you start up Warzone for the first time. If you've been playing the game for a while then we'd also suggest taking your VR headset off (even if it's only for a moment!) so that you can see how Warzone looks and feels on flatscreen, and with a mouse and keyboard if you're playing on PC. After all, you're better off getting acclimatized now rather than later on when the stakes are higher.
While the controls in Warzone are mostly the same as before, there are a few slight changes that you'll need to adjust to, and Flight School's the perfect place to do it. Basic training won't take you long to complete, and afterwards you can carry on with some more advanced training missions, which we'd recommend if this is your first time in the world of Valkyrie. Alternatively, you can head straight for the Proving Grounds to get in some proper trigger time.
Your first reward capsule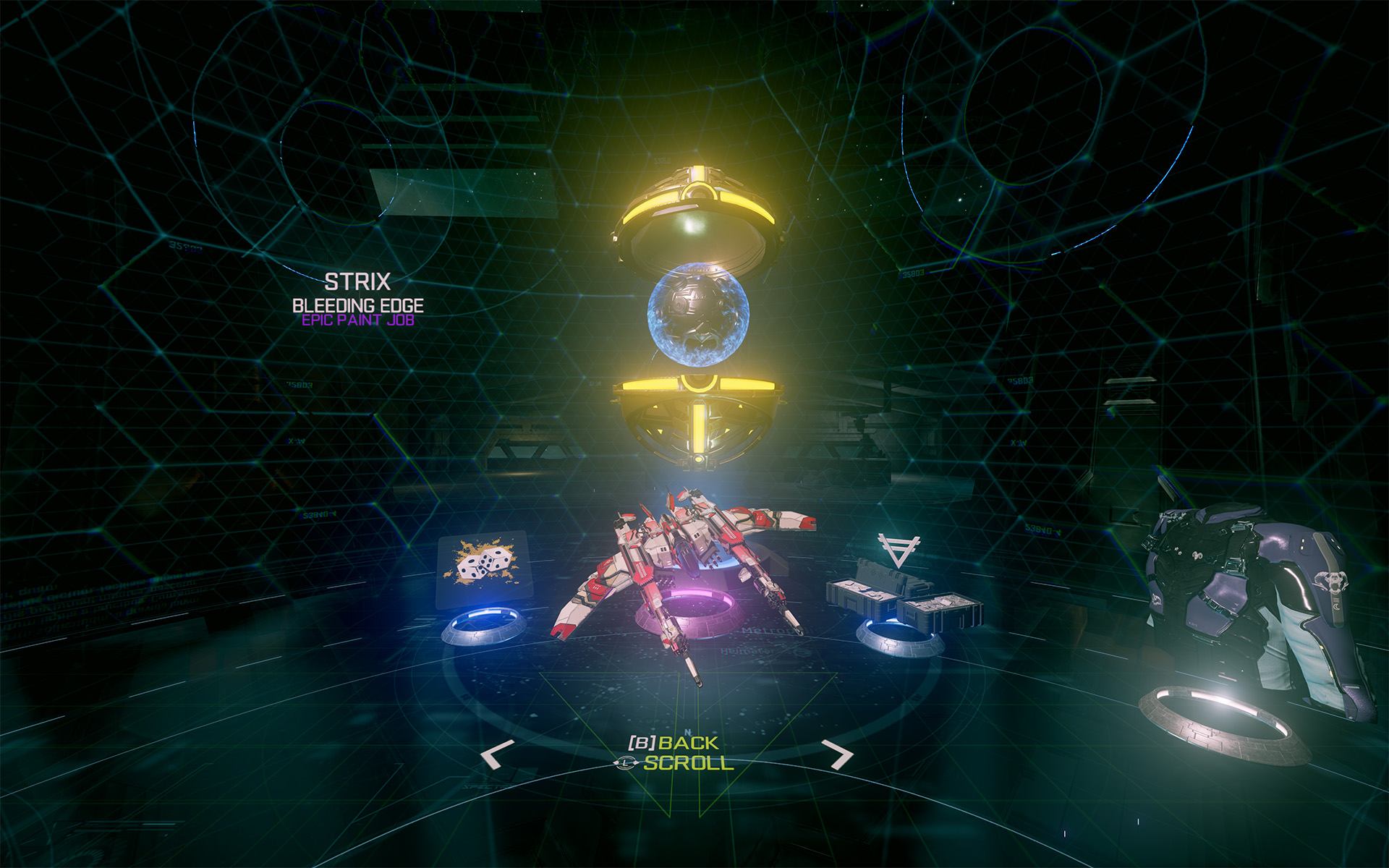 First though, you'll have noticed that once you completed Flight School, you'll have been rewarded with a lovely capsule full of loot. These are a new feature of EVE: Valkyrie – Warzone, and you can expect to pick up plenty of them along the way as you rank up and complete daily challenges. Each capsule contains a random mix of XP-boosting implants, ship-specific paint jobs and decals, pilot suits and helmets, as well as cold hard in-game currency that you can spend however you wish. So don't hang about; head for your vault to crack open your first capsule and check out your prize!
Check out the fleet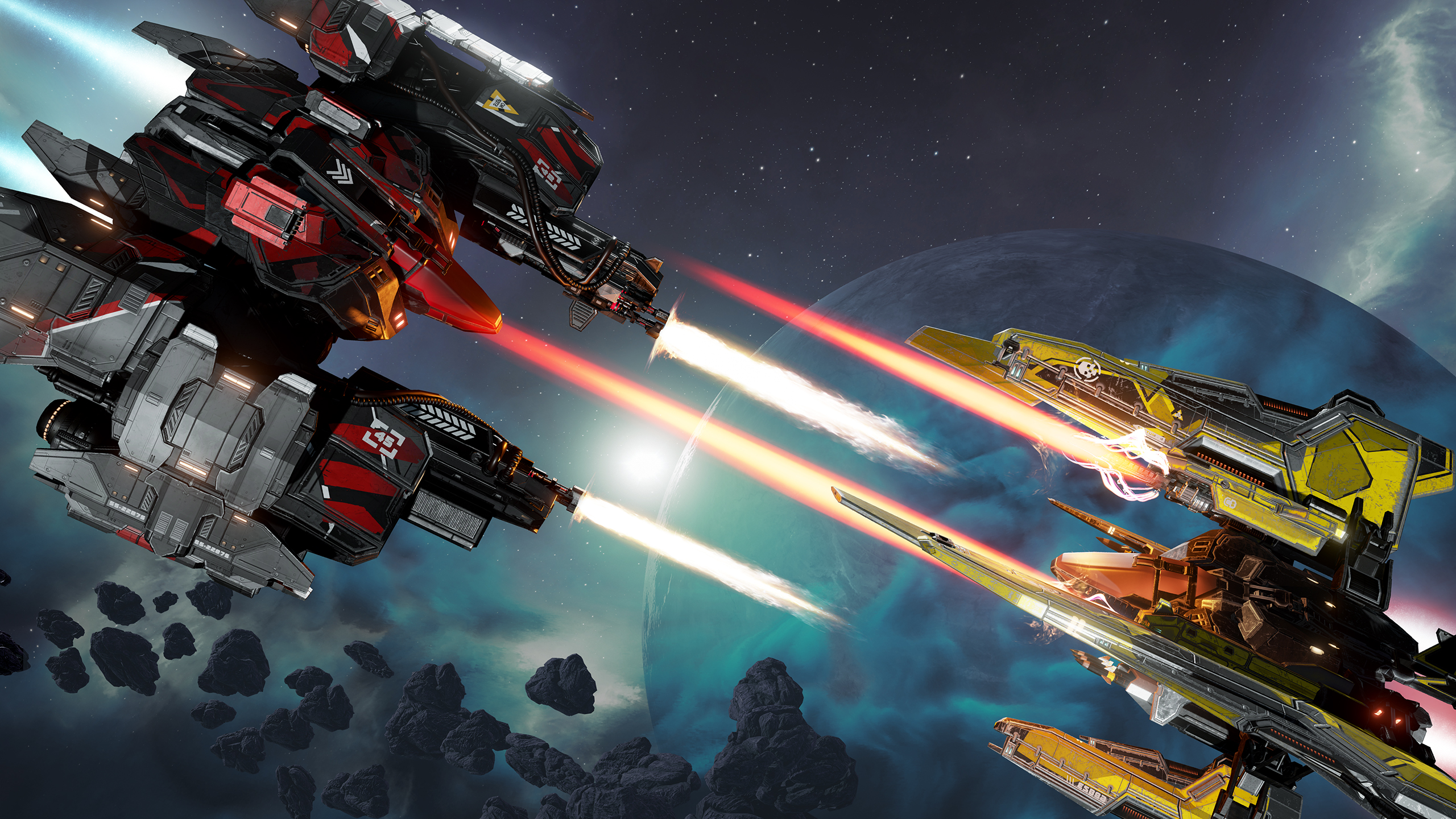 Done with training? It's time to hit the Proving Grounds, but first you'll need something to fly. So now's the time to discover Warzone's shiny new fleet, and discover another change that's come to EVE: Valkyrie. Rather than having ships drip-fed to you as you level up, in Warzone the entire fleet of 13 ships is available to you right from the start, so you'll want to spend a bit of time checking out what's on offer.
Instead of three classes, Warzone has four – Assault, Heavy, Support and Covert – and you'll notice that each ship within a class is radically different to its stablemates. That's a deliberate design choice in Warzone; rather than pick and choose based on minor variances in ability, you'll instantly be able to identify the ship you need for a particular scenario. Take, for example, the Assault class; its four ships can be categorized in a way similar to the main weapons you'd use in an FPS. There's the Wraith Mk6 as an assault rifle, the Jackal as a shotgun, the Strix as a sniper rifle and the Yurei as an SMG; we're sure you've already decided which one you want to try out first, right?
Into battle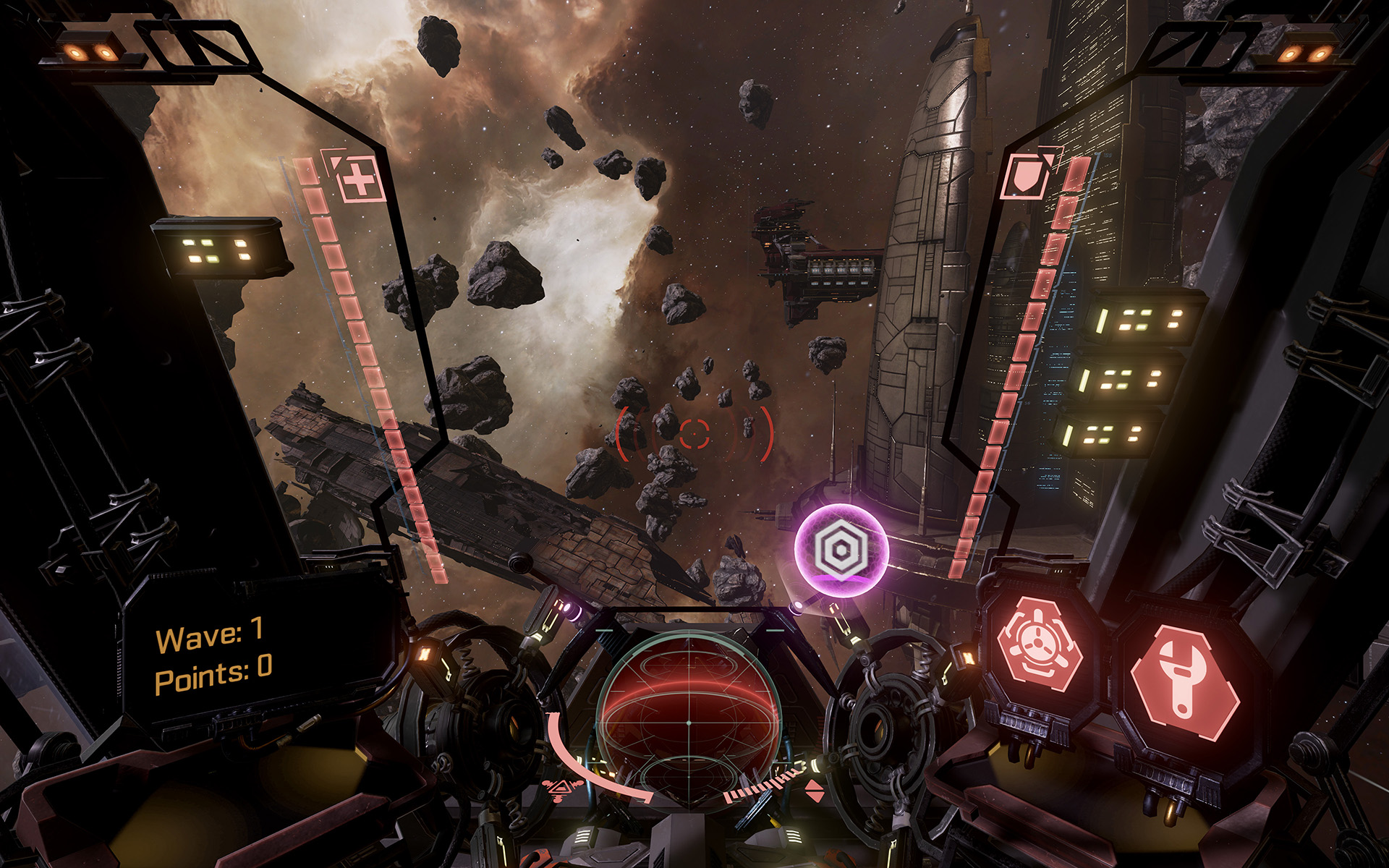 And so off we go to the Proving Grounds, to fight against a mix of bots and other novice pilots until we hit level 5. It's another great chance to appreciate how well Warzone plays on flatscreen – even if you're used to being able to look around the cockpit, you'll be pleasantly surprised to see how situational awareness doesn't suffer – and to get to know Warzone's two new maps: Fleet, the massive Sisters of EVE space station, and the mysterious Outpost, a fog-shrouded, lightning-dappled Drifter base. Don't get too over-awed by it all, though; you need to get some kills in to start leveling up. Then when you make a kill, be sure to grab the salvage dropped by your broken enemy; it'll speed up the recharge on your Ultra abilities, another new Warzone enhancement that, when timed correctly, can turn the tide of battle.
Ship upgrades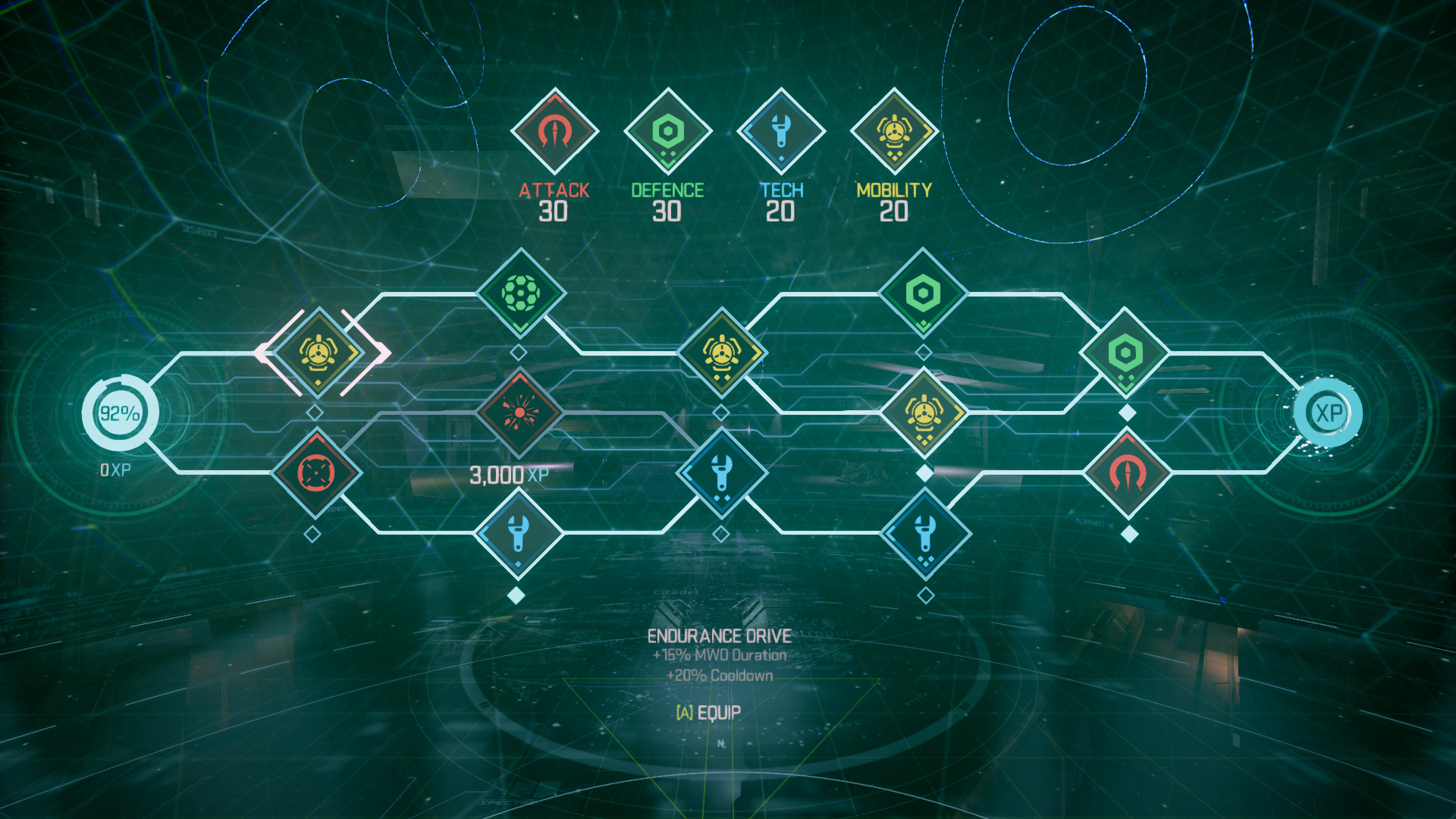 As you fight your way out of the Proving Grounds and into matchmaking proper, you'll earn XP on a per-ship basis that you can then use to unlock ship upgrades. Because while the basic ships are a joy to fly, they're even better once you've started modifying their abilities to suit your fighting style. You can choose your own upgrade path – meaning that after a few rounds of enhancements, each of your favorite ships will have become a unique space killing machine that fits you like a proverbial glove – with four types of upgrade available: Attack, Defense, Mobility and Tech. Most upgrades are tradeoffs with a small net benefit – that is, you might gain a 20 percent fire rate increase at the cost of a 15 percent damage reduction per shot – so choose wisely.
The hangar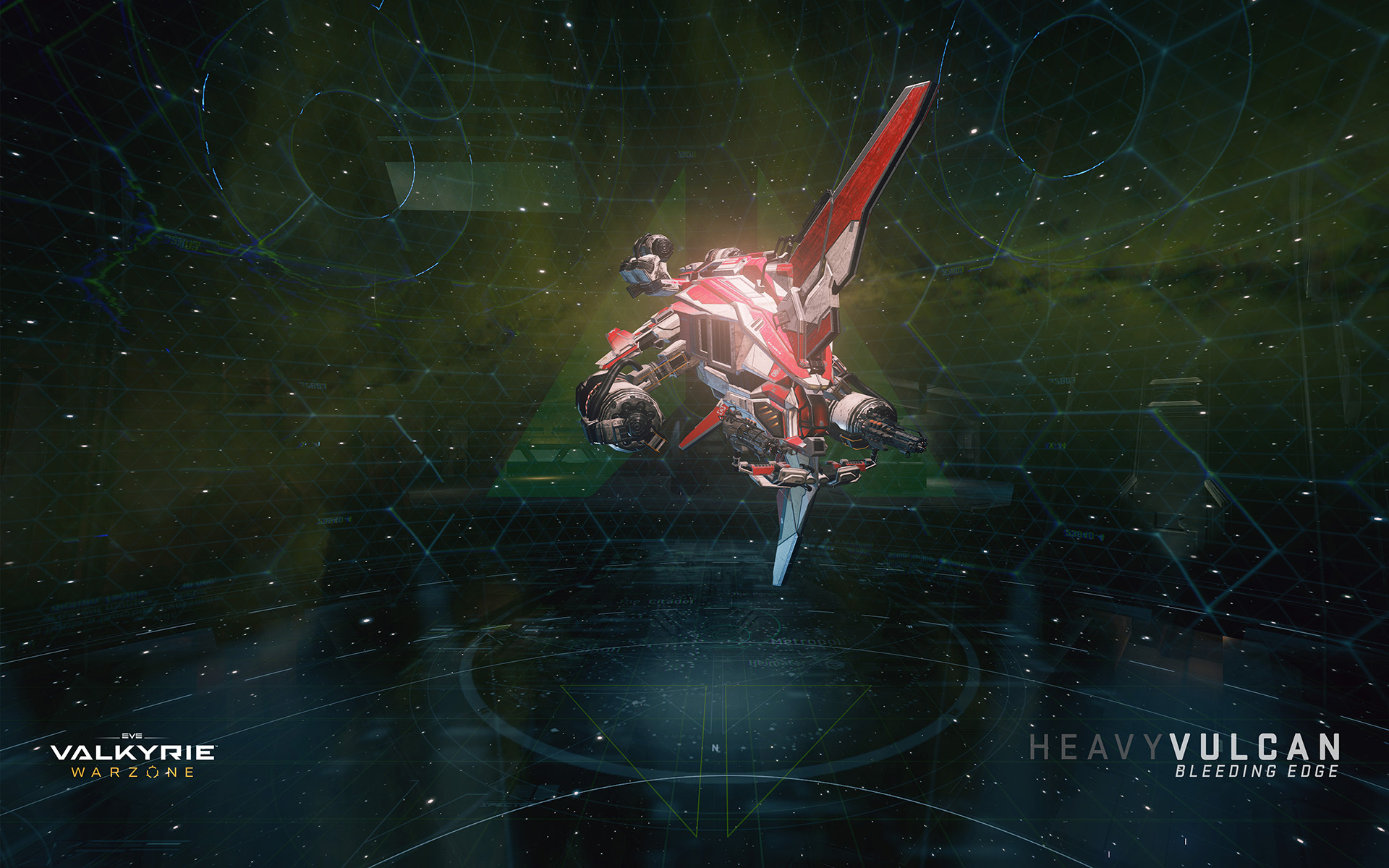 One way to personalize your ship is through upgrades; another, more visible way, is with paint jobs and decals. You can get your hands on these through Loot Capsules, or simply buy them with your hard-earned silver. We're certain you'll want to stamp your personality on your favorite ship before the first hour's done and dusted.
Onwards!
Is that an hour already? Well, they do say that life in New Eden rarely stands still. Here, then, is where we sign off, but for you the journey's barely begun. It's time to get back into the cockpit and into battle, and discover everything else that's new about EVE: Valkyrie – Warzone, including the Extraction mode. See you on the leaderboards, and fly safe