One thing we learned in 2016 was that our community of Valkyrie pilots is awesome. They're always ready to help new pilots, share their expertise and basically get involved in all manner of ways.
Who could have guessed, though, that the hard-bitten pilot who 'offs' Guristas without a second thought each and every evening during epic EVE: Valkyrie sessions can be found, the very next day, donning an apron and getting covered in flour and crumbs as they conjure up all manner of delicious Valkyrie-themed baked goods?
Well, it's true. As you can see from the illustrative image above we've had sweet and savory snacks coming out of our ears (not literally) since we embarked on our VR adventures in New Eden. We have experienced flapjacks and cupcakes from NathanThe6th, the Quartermaster choc sponge from General Stargazer, Aegis-themed cheese crackers from Goatan, a Spider Bot snack from Anska and a Quafe-bottle-cap-strewn sugar rush from our very own CCP Redcape… EVE: Valkyrie has proven as calorific as it is terrific.
We want more. We want you to tweet us pics of your crunchy comestibles on any Valkyrie theme you can think of. It doesn't have to be cakes. It can be a full-blown meal if you're up to it. Maybe adopt an Italian theme and serve up a delicious Rán-elloni or a spicy middle-eastern Fatal-afel… See what we did there? Simply tweet your creation using #evevalkyrie and #shipcakes.
We'll set up a forum thread real soon so you can share your recipes with us.
To kickstart things we've provided you with an easy-to-follow recipe for deliciously buttery shortbread biscuits/cookies.
These aren't the soft cookies you might be familiar with, but crispy, sugar-crystal delights that you can enjoy with a tea or coffee after a particularly demanding dogfight.
Knock yourselves out!
Chocolate 'Ship' Shortbread Cookies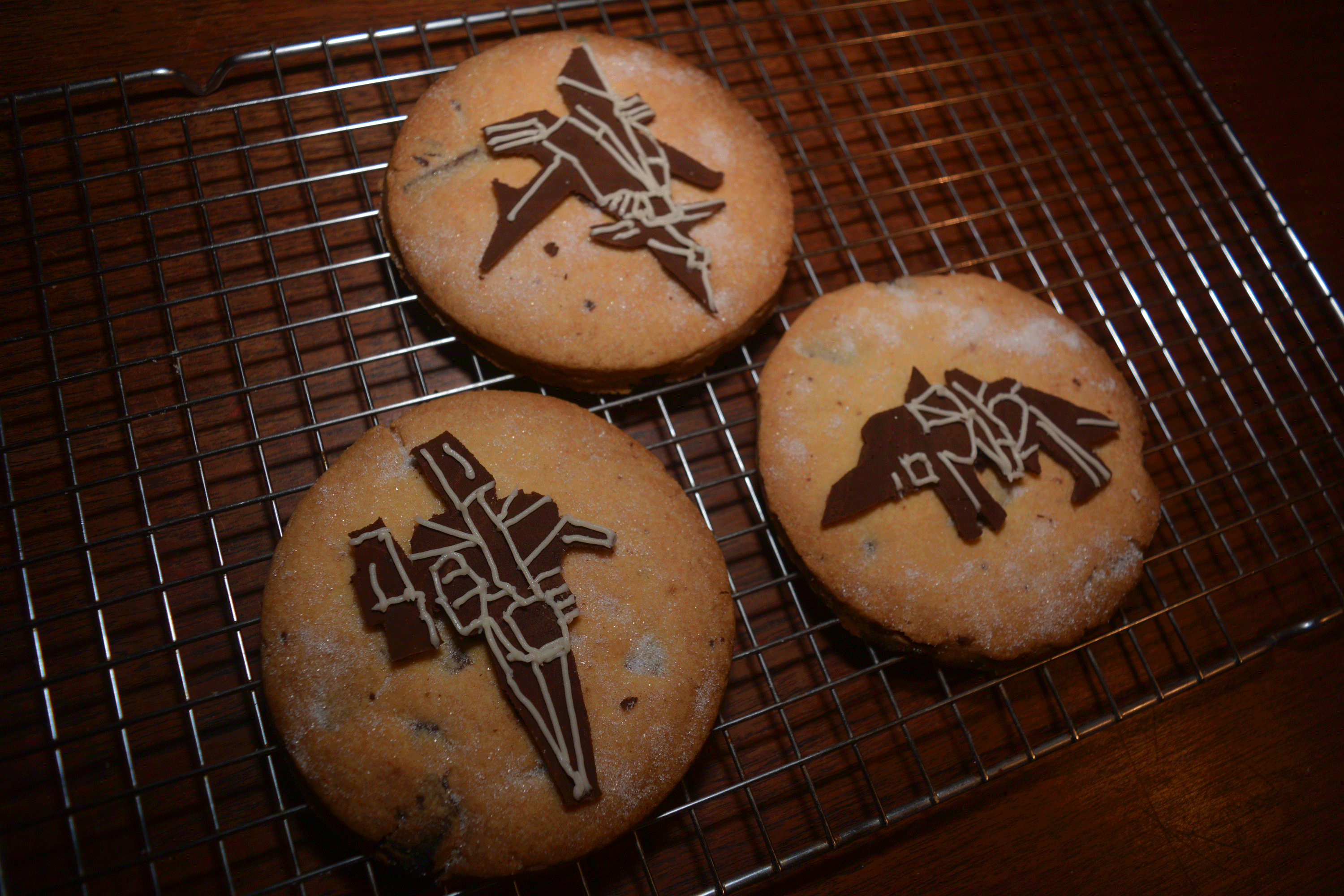 Ingredients
220g softened butter
100g caster sugar
200g plain flour
100g cornflour
Pinch of salt
100g choc chips
Fondant Icing
1 bottle of Quafe
Method
Put the softened butter and sugar into a bowl and blend it together thoroughly. Sift the flour and cornflour into the mix and add the salt. Again, blend the ingredients together into a light fluffy mix. Add the choc chips and mix some more until they are evenly distributed.
Place the mixture onto a floured surface then knead it until it's a soft dough.
Sprinkle flour on a rolling pin and roll out the dough to a thickness of 1cm. Imagine you are delicately flattening the tobacco leaves for Fatal's cigars… it's THAT important.
Now use a cookie cutter to cut out the individual shortbread biscuits. This recipe will make either 24 regular cookies or six large ones roughly 9-10cm across. Hint: Go for the bigger ones like we have because they are easier to decorate.
Grease a baking tray, place your cookies on it and leave to chill for 30 mins. Heat your oven to 170 degrees.
Bake the cookies for around 20 minutes until they are a nice golden brown then leave them to cool before decorating.
Decoration
The easiest way to decorate your cookies is to buy some ready-made fondant icing. Roll it out (you can add cocoa powder if you want it chocolatey) and carefully cut out the shape of your desired ship. You can do this by eye but we cheated by printing out an image of the ships, cutting them out and using the paper templates as a cutting guide.
Place the icing ships on the cookies. If you like, you can add some details with piped icing or food colouring.
The final step is to admire your work before hungrily scoffing the lot washed down with the bottle of Quafe we listed in the ingredients.
Send us a pic when you've made some of your own. The proof of the Valkyrie pudding is in the eating.
Don't forget to check out some of the other amazing non-food-based Valkyrie 'makes' in our recent holiday creative competition.
Fly together, bake together!