What a weird and wonderful month it's been for Valkyrie pilots. Since EVE: Valkyrie's major Wormholes update went live on February 15th, our flyers have been experiencing some truly bizarre twists on the regular Valkyrie formula every weekend, with each new wormhole event delivering a twisted new take on New Eden's environments.
Not yet had chance to try out a wormhole? Or have you only just joined the EVE: Valkyrie community? Then let's take you through what's been happening in the wormholes so far.
What is a Wormhole?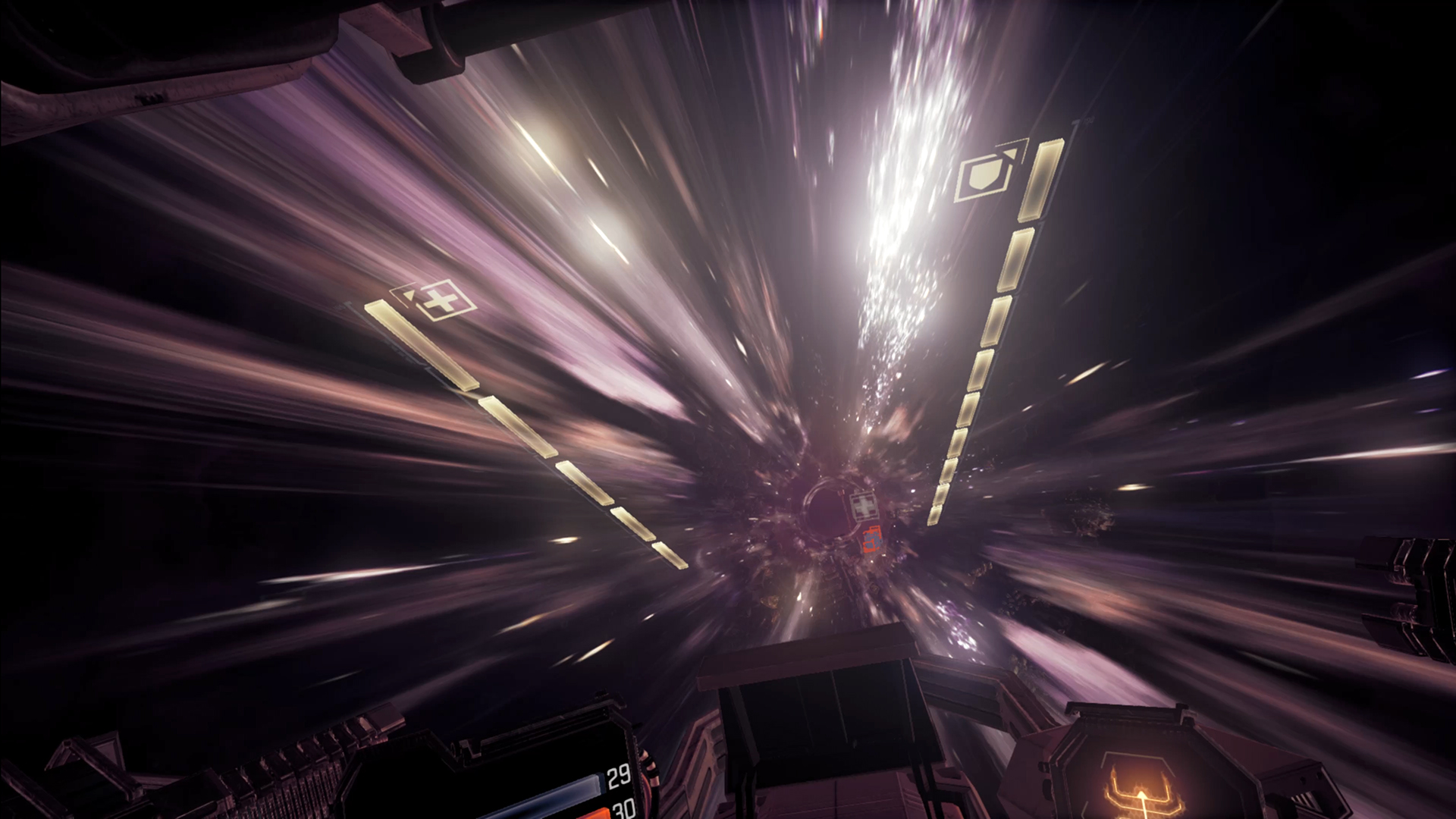 A wormhole is a rift in space that leads to an alternate version of the EVE: Valkyrie universe. On flying through a wormhole's conduit, players find themselves in starkly different and corrupted versions of the Valkyrie maps they know and love. Physical structures can appear warped almost beyond recognition, environmental conditions are altered and, crucially, the gasses that permeate the wormholes have peculiar effects on the game's ships and their weapons.
A new wormhole opens up every Friday through Sunday and while it's open, players can dive in and play as much as they like. Once inside, players can pick up experience and VISK without their performance going on their permanent record. At the end of play Sunday, the wormhole - being an unstable beast - collapses in on itself, never to be seen again.
Where do I find it?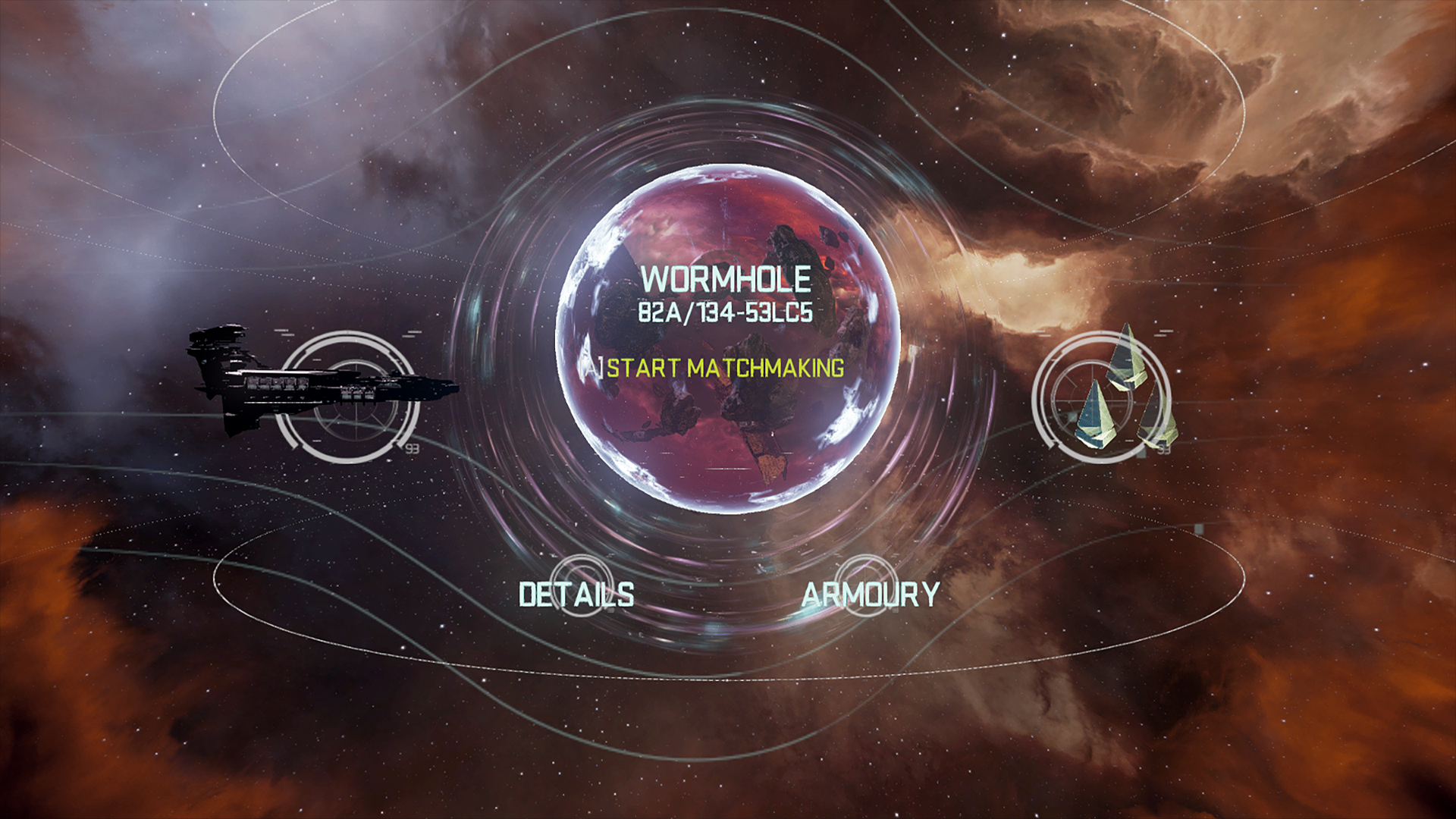 It's easy. As soon as a wormhole opens up, you'll notice a spooky orange glow just above the main menu screen (pictured below). Focus on that glow and you'll be given access to the latest wormhole, along with a few details of what to expect plus the ship loadouts available. Yes, ship loadouts. One of the oddities through the wormhole is that you don't have access to your hangar full of ships. You get what you are given, so you'll have to adapt to the situation.
What Have I Missed?
The first four wormholes have proved extremely popular with their variety of unique challenges and visual oddities. Here's what's been happening in the alternate version of New Eden so far.
Week 1
Wormhole: 13A/651-70JG5 
Map: Cathedral 
Ship loadout: Wraith, Dominator, Sentry, Goliath 
Game type: Team Deathmatch 
Details: Dubbed 'Salvage Collector', EVE: Valkyrie's first wormhole featured a horribly corrupted version of the Cathedral map and ships that dropped three bits of salvage when destroyed, so it became a race to suck up all the spoils. 
Week 2
Wormhole: 82A/134-53LC5 
Map: Necropolis 
Ship loadout: Sentry, Siren, Phantom, Revenant 
Game type: Control 
Details: A deliciously cruel wormhole. There was only one control point, instigating a constant back-and-forth battle to secure it in a map littered with mines that destroyed you on contact.   
Week 3
Wormhole: 01B/555-51JX5 
Map: Fire Forge 
Ship loadout: Wraith 
Game type: Control 
Details: There was no shield modifier in this wormhole, so pilots were faced with the terrifying prospect of having to survive as long as they could merely with what they had.
Week 4
Wormhole: 70C/322-42JW6 
Map: Ice Forge 
Ship loadout: Displacer, Sentinel, Accord, Aegis 
Game type: Team Deathmatch 
Details: Boost speed was doubled and capacitor recharge rate increased, for a fast and ridiculously furious battling experience.
Lost in time, like tears in rain…
That's right, once a wormhole is gone, it's gone forever. But dry your tears! While we won't be able to play them anymore, they will live on in the memories of our pilots and, to a degree, right here. We plan to document all the wormholes as they come and go for posterity. Each month, we'll take a look back at what has gone before and we'd very much like to hear from you, our beloved pilots, about some of your experiences in the wormholes. Either sign up to our forums and get chatting, or hit us up on Twitter via #evevalkyrie, #wormholes and #PS4share. 
Our original 'designing the future' thread is constantly throwing up some amazingly creative ideas from the community for future wormholes so head over there and add your own dash of color to the convo.
Also, we're lucky enough to have people like SalsaKetchup (the community member who recently wore slippers on his ears while playing Valkyrie for charity), who keep a living record of the wormholes for us, just for the sheer joy of doing so. His musings on the latest wormhole are below, so be sure to check out his YouTube posts as they appear.   
See you at the weekend for more wormhole-related madness!