We accept that when you get EVE: Valkyrie up and running on your VR rig your first impulse is to dive straight in and get battling. Fair enough. But when you get a spare moment or two between dogfights and point capturing you should take a few minutes to register with us and link your Valkyrie pilot to a CCP account for two great reasons. The first is a slick paint job for your ships and the second is the opportunity to rack up a load of extra XP.
The option to sign up and link accounts is open to all Valkyrie pilots whether playing on Rift, PSVR or soon HTC Vive via Steam. Let's walk you through the process.
First Step, Sign Up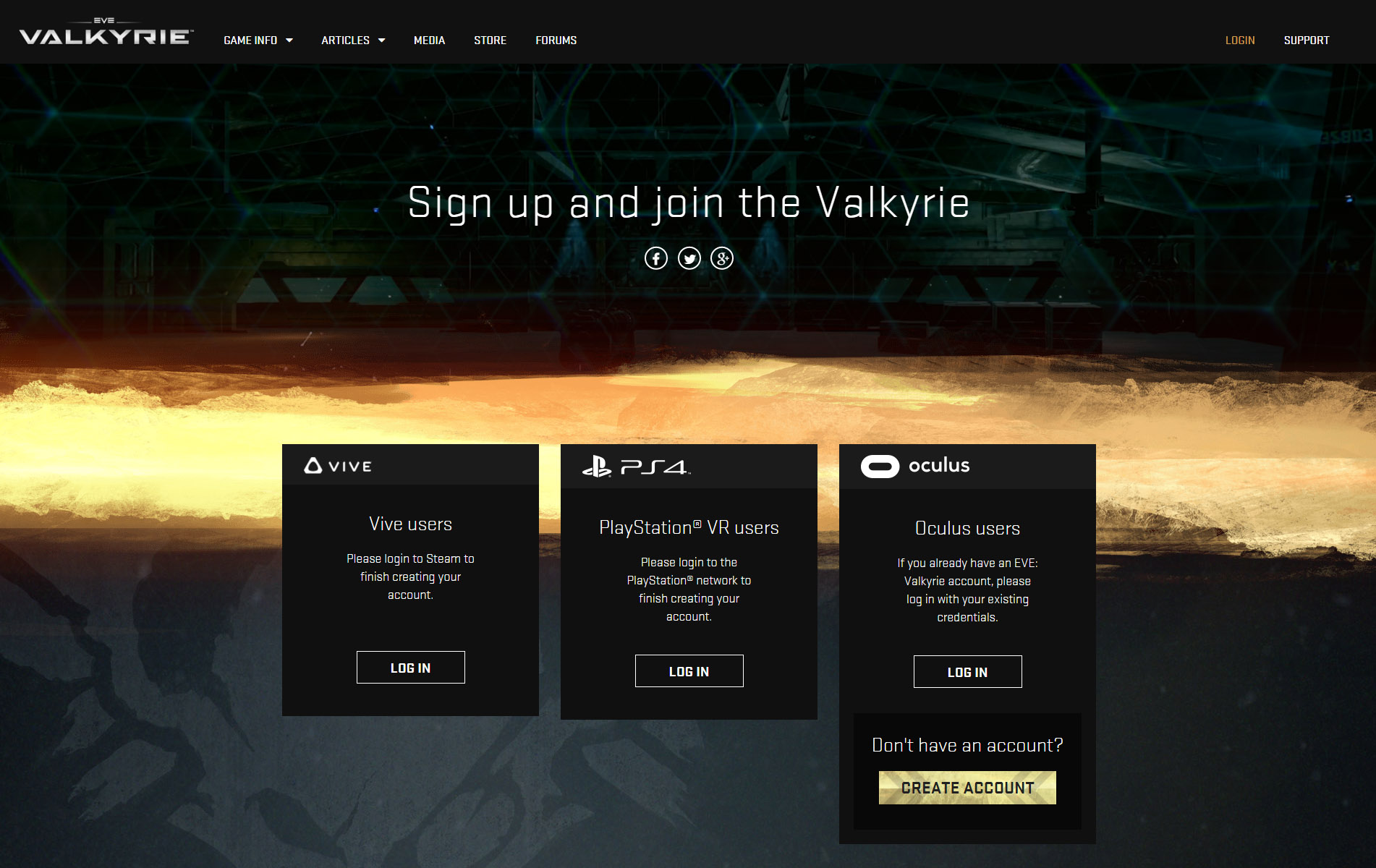 Assuming you've already got the game and created a pilot (and if you haven't, what are you waiting for) you need to get yourself a CCP account. Head over to the signup page, select the option for your VR platform, enter your credentials (they'll be the same as the ones you used when you signed up to your third-party account with Oculus, Sony or Steam) and that will create a link. Fill in the form presented to you and you'll be a sent an email. Click the verification link in the email and you're done!
A Marvellous Makeover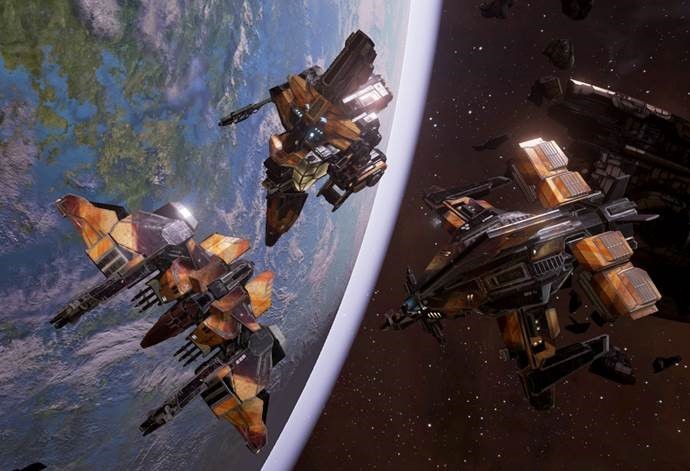 Having followed the steps above, next time you log into EVE: Valkyrie you will be the proud recipient of the Ember paint job. This sumptuous marriage of glowing orange highlights and copper undertones is a great way to spruce up your ships and show the rest of the pilots out there how committed you are to the cause.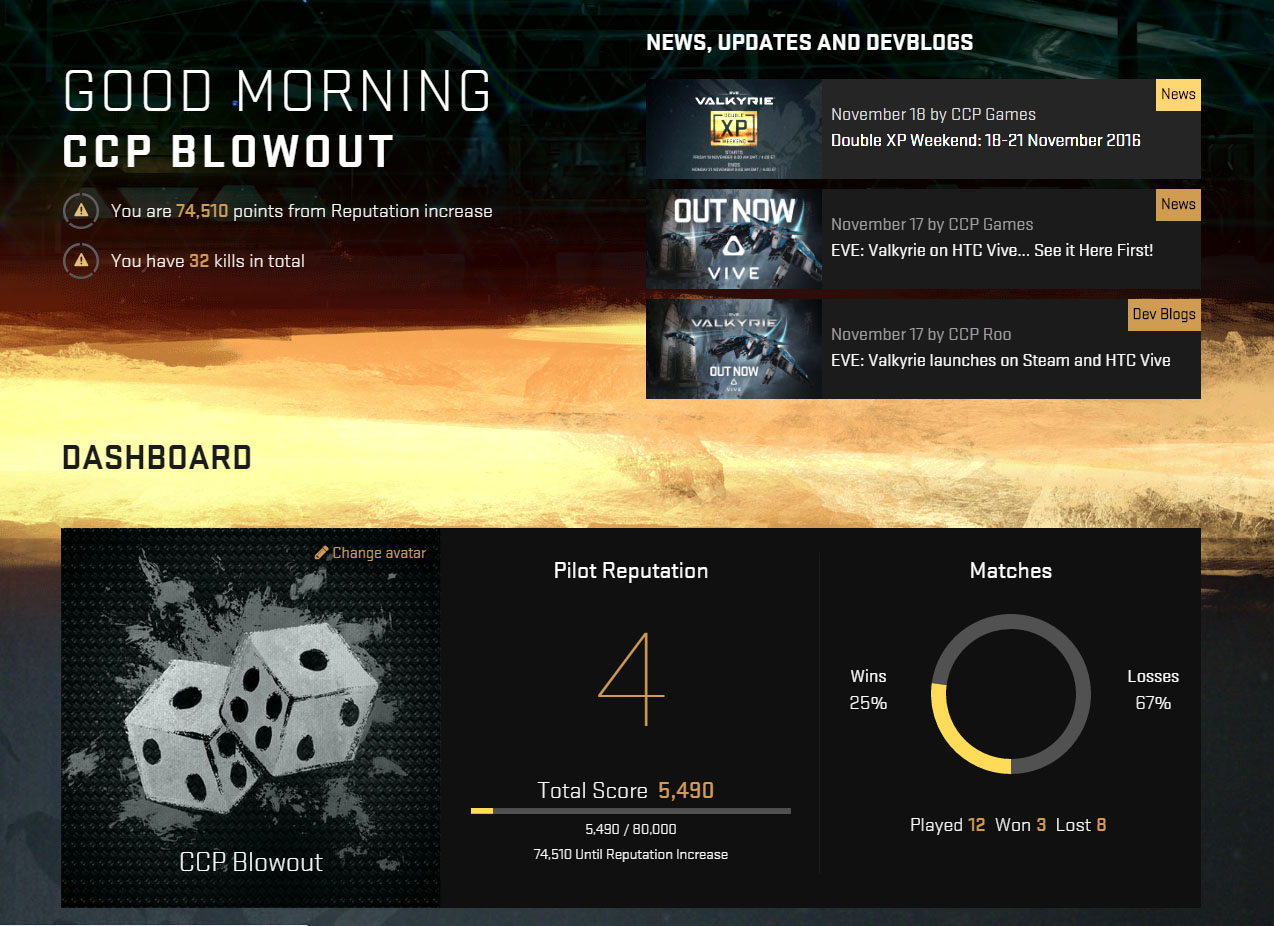 Along with free swag you're also now able to log in to the Player Dashboard (see that login button at the top right?) where you can view your pilot's progression, as well as see your standings on our Leaderboards - when logged in, you can see how your pilot compares to the best of the Valkyrie.
We also hope you'll join our growing community, and once you have your account linked you can access the Player Dashboard to change your avatar for the official Forums - get involved! The more you progress, the more avatars you can unlock.
The Big Boost
In addition, when you link up your accounts you immediately trigger a seven-day XP booster in the form of an in-game implant. This means that the more you play during that seven-day period, the more XP you will earn. Better still, unlike shoddy supermarket promotions where you can only use one discount voucher at a time, you can use the seven-day booster in conjunction with other Valkyrie promotions.
We'll be offering another one of our Double XP events real soon so keep checking in right here. Note that you can link your accounts so as to benefit from Double XP weekends plus the free XP booster at the same time. It's an unmissable opportunity to shunt yourself up the ranks in double (Treble? Quadruple?) quick time!
Not bad, right? We are very much looking forward to seeing you in New Eden sporting your fancy new Ember outfits.